Home

›
Cupcake Frosting Recipes
Cupcake Frosting Recipes

There are no hard and fast rules about cupcake frosting.
When I make cupcakes for the family I tire of decorating them the same way and look for easy cupcake frosting recipes.
I love the look of a plate of cupcakes with vanilla glace frosting and a cherry on top. Pink food coloring added to the frosting also looks great. Frosting piped onto a cupcake, with a sprinkling of candy confetti, shredded coconut or chocolate is always popular.
And who can say "no" to a butterfly cake that has jam, lemon curd, or cream as it's center? When dusted with icing sugar, butterfly cakes become irresistible.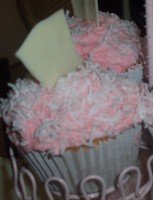 The other day I was invited out to lunch. It was already late morning so I quickly made a batch of cupcakes. I went to the pantry to get out the icing (confectioners) sugar to discover there was none left. I didn't have time to go to the shop so I improvised. I grabbed a jar of choc hazelnut spread and used it as my frosting. It is a little stiff to spread so I needed a mug of boiling water to dip my knife into to make spreading easier. The cupcakes tasted fantastic. My lunch host was very impressed and asked for my cupcake icing recipe!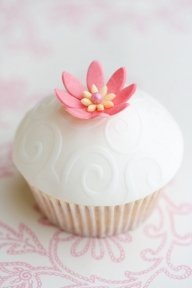 If I'm invited to an afternoon tea and want to take a plate of cupcakes that will look spectacular, a really easy alternative is to use fondant as your cupcake frosting and decorations.
If the tops of your cupcakes are not flat, slice through the peaks so that you have a nice level surface to work with. Decide on two colors (I love pale pink and pale green) and carefully work a couple of drops of coloring into fondant - you don't need very much fondant. When the coloring has been kneaded in, roll fondant to the desired width and use round cutters to cut circles big enough to fit over the tops of your cupcakes. Be creative with your designs. You can cut shapes in the contrasting fondant or you can use a third color (white is always a good choice) to add dots, lines, flower centers etc.
There are so many different cupcake icing recipes. Often it depends on the "look" you are after and the type of occasion you are decorating for that determines which recipe you will follow. Is it a casual family affair, a children's birthday party or an engagement party?
---
I was recently at a craft and food fair and one of the stalls was selling ... frosting shots!! They were little plastic disposable shot glasses filled with piped cupcake frosting. Each shot glass came with a tasting spoon and people were lined up to buy these mouthfuls of sweetness. Buttercream and ganache were the popular choices.
The frostings that I use (with the exception of fondant) can be piped or spread onto the tops of cupcakes. Listed below are basic icing recipes. You can vary the flavors and add colors to the recipes to match any cupcakes.
Almond paste can be used to coat cupcakes before frosting with royal icing. Also great for fillings in chocolates, cakes and pastries.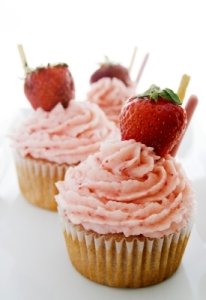 Brown sugar icing perfectly enhances a variety of cakes and cucpakes ranging from pumpkin, banana and carrot to chocolate, vanilla and caramel cakes.
Buttercream frosting is, as the name suggests, a very buttery cupcake frosting that tastes yummy and can be easily colored to suit the look you are after. Buttercream is great for piping as it holds its shape very well.
Chocolate fudge frosting, whether used as a filling or a topping, it makes a chocolate cake look stunning and irresistibly scrummy.
Chocolate ganache is another cupcake frosting alternative. A ganache has a beautiful rich, smooth texture that transforms a cupcake into a magnificent dessert.  It is easy to make and I guarantee you'll receive compliments from everyone who tries it.
Cooked chocolate icing adds a touch of luxury to any cake or cupcakes. The gooey chocolate with a hint of sweetness leaves you licking the fingers.
Cream cheese frosting is a perfect partner for just about any cupcake recipe. You can play around with the quantities of butter and cream cheese to achieve a unique flavor.
Fluffy frosting is made with egg whites and is best made on the day it is to be served. It has a beautiful, soft, marshmallow consistency.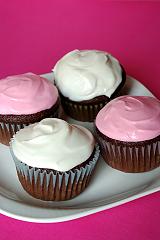 Fondant, which is ideal for Christening, Engagement and Wedding cupcakes, is readily available at the supermarkets but can also be home-made. I would recommended using fondant with a fruit cake. Fondant keeps well and can be prepared or bought well in advance.
Glace frosting is very quick to make. This only requires beating butter, sugar and water or milk in a small bowl and is ready within seconds. Glace frosting is the icing that I use the most as it is such a quick topping for any cupcake.
Peanut butter frosting is another ideal frosting. This rich creamy frosting is perfect teamed up with chocolate cupcakes, but can also be used with other cupcake flavors.
Royal icing has an egg-white base that sets hard on standing. It is ideal for frosting cookies.
Seven minute frosting is a versatile topping and filling for any type of cupcakes you can think of; be it chocolate, vanilla, coconut, fruity or angel cake.
Strawberry frosting brings a classic freshness to your cakes and desserts.  It is versatile in every sense. Put a dollop of strawberry frosting on a pie, layer your cake with it or fill your sponge roll; it will never let you down.
Vanilla icing is a piece of soft creamy heaven on cakes. Vanilla, an ancient flavour, is a delight for our senses.
If you are also like me and let the children help you cook and they accidently spill something that is not easy to clean up, you must visit Stain-Guide.com. With stain removal tips for almost every spot known to man, this is your one stop site for getting rid of filth.
Check out my Cupcake Store for the latest cupcake products. I have selected all my favorite cupcake accessories and items. I hope you like them. 

---
Share your favorite recipes
Do you have a recipe for frosting that you would like to share? What frosting do you team with chocolate, vanilla, fruit cupcakes?

Or, do you have a question about any of my recipes?

We would love to hear your recipes, questions and ideas.
Read recipes and questions from other visitors
Click on the links below to see some great cupcake frosting recipes and questions. They were all written by other visitors to this page.

Home

›
Cupcake Frosting Recipes