Cupcake Wedding Cake
A Cupcake Wedding Cake is the modern day alternative to old-fashioned boiled fruit wedding cakes.
Rather than having fruitcake for all, Wedding cupcakes can also be made in a variety of flavors - dark chocolate mud cake, white chocolate mud cake, and sponge cakes are really popular. They are the fashionable alternative and they are constantly being featured in bridal magazines.
Cupcake wedding cakes are easier and cheaper to make than the more traditional celebration cake. They give greater options for flavors and designs and if you can't decide you can combine your choices. They are cheaper to make but they are also much cheaper to serve at your reception as there is no cutting fee.
It is always good to offer at least two different flavors and they can be easily distinguished by using different wrappers or decorations.


Don't be afraid to make a cupcake wedding cake yourself. There are so many specialty products available for decorating cupcakes that sourcing these is not difficult. Bake and frost your cupcakes and use a pre-made topper to complete your design. Our cupcake designs are only limited by our imaginations.
It sounds daunting to tackle Wedding or Anniversary cupcakes on your own, but with careful planning it is easy to achieve. It is also a huge accomplishment to be able to say "I made them myself". White chocolate ganache swirled on to a plate of vanilla cupcakes with a simple flower decoration looks stunning - simple yet elegant. Pale blue frosting with a white chocolate shell as its center is suitable for a more casual beach theme.

Fruit cake with white fondant is like starting with a blank canvas. From here you can add colored fondant cut-outs or continue with an "all white" theme.
The main thing to remember is that cupcake decorations can be kept very simple, because when grouped together they will look impressive. If you are making a cupcake wedding cake for your own "special day" you need to minimize the effort and maximize the impact.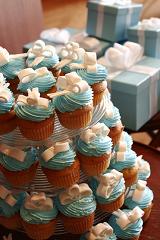 Apart from using a cupcake wedding cake as a dessert, they can also be individually boxed or packaged and be given to guests as favors or bonboniere. Pipe the bride and groom's initials on top of the cupcakes and guests have a beautiful reminder of the day.
A cupcake tiered wedding cake shows the cupcakes off to perfection. You can decorate the wedding cupcake tower with fresh flowers or ribbons in colors to complement the bride and bridesmaids' outfits. Put cakes in the tower and then spread the remainder over the table for a stunning display.
The vanilla cupcakes, pictured left, have a blue buttercream frosting. I then rolled out white fondant and cut into strips which were then folded to resemble bows. It makes a striking display.

It sounds daunting to tackle Wedding cupcakes on your own, but with careful planning it is easy to achieve. It is also a huge accomplishment to be able to say "I made them myself".

You can make a stunning cupcake tower display with little or no cake decorating experience. A mistake on any individual cake will not be noticed when they are grouped together. Or, if you make a mistake put that cupcake aside and don't use it.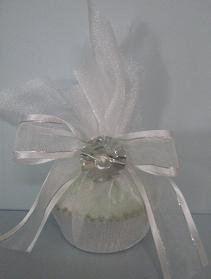 If you are unsure about your frosting and decorating skills, wrap each cupcake in a cupcake cosy. Stack the cupcakes on a tiered cupcake tree and you will have a stunning arrangements. Buy fabric and ribbon in colors to match the wedding theme.
Fresh flowers and tea-lights can be popped in amongst the cupcakes to enhance the display.
Another alternative which makes the job of decorating much easier is to have each cupcake in a gorgeous cupcake wrapper. They come in all colors and you are sure to be able to find one that suits your wedding theme.
A cupcake wedding cake is easy to set up. Get a reliable friend to transport cupcakes to your reception venue and set up as well. You can either have one large cupcake tower or you can have a smaller tower on each table thereby eliminating the extra cost of table centerpieces.
Tiered cupcake towers are readily available for hire or to buy. Check out your local telephone directory to find stockists.
Have you thought of giving cupcake wedding favors to the wedding guests? They have become a very popular wedding favor and one that is loved by everyone who receives them.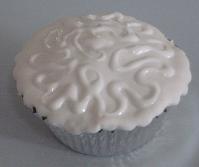 Before you get to the wedding there may be an Engagement Party to organise. Bite-sized cupcakes are the perfect food to be served at the party or celebration. On my Engagement page you will find some gorgeous ideas for decorating your engagement party cupcakes.
You finally get over the excitement of the wedding and in no time it will be time to celebrate the first wedding anniversary. On my Anniversary page you will find some suggestions for serving cupcakes at the Anniversary Party.
Here are some of my favorite photos of wedding cupcakes. They are sure to inspire you as you plan your own cupcake wedding cake.
Wedding Cupcake Ideas
| | |
| --- | --- |
| | |