Baby Shower Cupcakes
Instead of making a baby shower cake, make baby shower cupcakes. A whimsically decorated display of cupcakes at a baby shower is sure to become the hit of the party. One of the best things about creating cupcakes for a baby shower is that you are limited only by your imagination and you can have lots of fun creating cupcakes that will add that special touch to any shower.
There are dozens of ideas for creating baby shower themed cupcakes, and they can be made with any type of cake. You can also consider adding filling to baby shower cupcakes to give them an extra special touch. Consider some of these ideas for creating baby shower cupcakes that the expectant mom will never forget:
If you decide to make and decorate your own cupcakes, visit the local supermarket to get some great baby shower cupcake ideas. They have a large range of edible sugar decorations that can be used with a simple glace frosting. They look simple but classic, and what's even better is that they are so easy to prepare. There are huge ranges of edible decorations available either on line or at baking supply stores.
Start by looking at the wide variety of cupcake wrappers on the market. These simple additions let you add instant style to any cupcake, no matter what your baking and decorating abilities. If you are good with crafts, consider creating "diapers" for your cupcakes with bits of white fabric and colorful diaper pins.
Working with fondant isn't as difficult as it looks, and the results are fantastic. You can create nearly anything with fondant, and it gives your cupcakes that smooth look that gourmet cupcakes have. You can make fondant yourself, or you can purchase pre-made fondant at your local craft or bakery store. Look online for ideas on the many things you can make with fondant.
Frost round cupcakes with a flesh-colored frosting, then use a simple frosting piping tip to add baby features to your cupcake. Novice bakers can purchase frosting that comes ready to dispense with a simple round tip, or you can make your own using recipes online. Add features with candy pieces, or pipe with chocolate, then display the baby faced cupcakes on a simple tiered cupcake stand. A pacifier really completes the cupcake.
If your baby shower has a particular theme, decide if you can match it on your cupcakes. You can often purchase decorations that will match the theme that are already made. Or you can be creative and design your own.
A simple but striking baby shower cupcake display starts with a tiered display stand. Cover cupcakes with customized chocolate candies (such as M&Ms), and arrange on the tiers by color. The result will be surprisingly chic, yet very easy!
Bake cupcakes, then frost with either pink or blue (or both!) frosting. Then, insert a purchased lollipop stick into the cupcake, and tie with a matching ribbon to create "rattles". This simple trick will help you create dozens of cute, themed cupcakes in just minutes!
To help create a truly impressive display, consider mixing your edible cupcakes with non-edible gift cupcakes. Cupcakes made of wash cloths, socks, onesies, baby t-shirts, or even cloth diapers are easy to do, and make a sweet gift for the new mommy after the shower.
For a more elegant shower, consider decorating cupcakes with sugared cherries, glitter dust, or edible pearls. A chocolate cupcake in a cherry pattered wrapper, topped with white buttercream and garnished with a sugared cherry looks like a product from a high-end gourmet bakery, but takes just minutes to create.
If you want to create cupcakes that will really wow a baby-shower crowd, consider using modeling chocolate. This product will allow you to sculpt anything you can imagine to decorate your cupcake with. Consult books or websites about modeling clay for ideas and techniques.
Wrap each baby shower cupcake in a fabric cupcake cosy and tie in place with ribbon or pin with a diaper pin.
Don't forget that decorating cupcakes can be part of the baby shower fun! Consider creating flesh toned cupcakes, then allowing guests to try their hand at creating their own baby face cupcake. Or, create a "cupcake relay race", where guests must team up to see who can create the most creative decorations out of candy and sprinkles.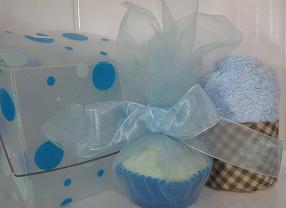 Creating cupcakes for a baby shower should be one of the most fun parts of the party. Use your imagination, and don't worry if you are not an experienced cupcake decorator- you'll be able to come up with lots of ideas that will suit your skill level.
To make the job of baking and decorating cupcakes even easier, wrap them in gorgeous cupcake wrappers. All they then need is frosting and a cupcake pick or edible decoration to make them look spectacular.
Here are some of my "favorite things" that will make your baby shower even more successful.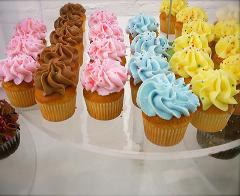 If you are looking for an original and special baby shower gift, visit Dusty Oak Ornaments. They make beautiful hand-made ornaments that will commemorate the birth of a baby. These ornaments will become a life-long treasure.

Still searching for Unique Baby Gifts? Baby Gift Hot List is your exclusive guide to special baby gifts and baby shower gift ideas, for anyone lucky enough to be shopping for baby.
Have you got great baby shower cupcake ideas? Have you ever made baby shower cupcakes? Or have you received a baby shower gift that you loved? Well, we'd love you to tell us about it and even send in a photo to be included on this page.
Share your favorite baby shower cupcake ideas
Have you made cupcakes for a baby shower? Or, have you seen some that looked fantastic. We would love to hear your stories. Share it!
What Other Visitors Have Said
Click below to see contributions from other visitors to this page...

Baby Shower Cakes
I made these baby shower cakes for my daughter's baby shower. They were a great hit, although most did not want to eat them, after some coaching they …
Baby shower cupcake
Just saw some baby shower cupcakes that are AMAZING. They have little baby faces on them and each baby shower cupcake is decorated differently ...www.facebook.com/kylies …
Baby shower cupcake ideas
I made a big 3d duck cake. To go with this, I made cupcakes with blue frosting and chocolate (yellow) ducks on top (you can get the molds at michaels). …
<! -- aweber signup form --> <! -- end aweber signup form -->