Halloween Cupcakes
Ideas for Halloween cupcakes. Be prepared for when the mummies, goblins and monsters come to visit!
Need cupcakes in a hurry? Have you left it to the last minute to orgaise your Halloween cupcakes? If you are like me and want to make "nice" cupcakes rather than scary cupcakes then the easy and best solution is to make vanilla or chocolate cupcakes. Pipe on orange cream cheese or buttercream frosting and then use a decorative cupcake wrapper.
Within minutes you will have a great looking cupcake that people will want to eat. You won't constantly be asked if it's edible and what's in it?
Easy Cupcake Wrappers could be just what you are looking for. Their range of Halloween wrappers is constantly growing and they have wrappers suitable for all occasions. The one-off membership fee of $US27.95 means that you will never again be short of decorating ideas. They have over 200 designs available to download whenever you want and you can also customise them to suit any occasion.
If you would prefer to decorate your own cupcakes here are some that my young daughter helped me to decorate. Like all my decorating ideas, the Halloween cup cakes are all totally edible as I prefer them over plastic toppers. I use lots of colored frosting and candies to create wonderful effects.
Next to each picture I have listed what I have used and given a brief description of how the "look" is achieved. I promise they are really easy. My nine year old daughter helped me with these and we had great fun.

Frost cupcakes with glace frosting or buttercream frosting. I added blue food colour but you could use black as well. I had some fondant so rolled this so that it was reasonably thin and then cut it to look like a ghost. You could also use white milk bottle sweets and roll them out to flatten them a little. Use edible black decorating gel for eyes.



My daughter had great fun decorating this Halloween cupcake. We frosted it with
glace
frosting that we had coloured red. We used a marshmallow for the eye and edible black decorating gel for the eye and for drawing the mouth.

My daughter also decorated this cupcake. We used green
glace
frosting to cover the cupcake. Edible black decorating gel was used to draw the face and a piece of licorice was cut to form a witch's hat. We used red shoestring licorice for the hair but you could also draw hair with decorating gel.

For the mummy cupcakes I cut
fondant
into thin strips and then placed them on the cupcake so that they were slightly overlapping each other. I used edible black decorating gel for eyes, but you could also use melted chocolate that could be piped on, or small chocolate buttons.

These vampire cupcakes look so effective but they are so quick to decorate. I used red
glace
frosting and then with edible black decorating gel I drew on the vampire face and hair. I used edible white decorating gel for the fangs.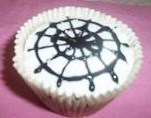 Frost cupcakes with
glace
frosting - you can use any colour. I then piped lines across the cupcake and joined them with the circles. Really easy. You can pipe either decorating gel or melted chocolate.
More Halloween cupcake ideas:
Frost with glace frosting and pipe the words "BOO", "Happy Halloween" etc on in a contrasting colour.
Use orange glace frosting and add a green sweet to be a stalk - and you've got a pumpkin! Add a face if you wish.
Use red glace frosting, add a green sweet for a stalk so that it resembles an apple. Place a lolly snake or worm so that it appears to be wiggling it's way out of the apple!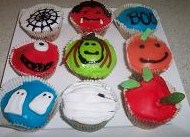 How do you decorate your Halloween Cupcakes?
Do you have photographs of Halloween cupcakes that you can share with us? We'd love to see pictures of your cupcake masterpieces.

Did the children make cupcakes and decorate them?

Is there a story to share as well?

Let's share our successes.
What Other Visitors Have Said
Click below to see contributions from other visitors to this page...

<! -- aweber signup form --> <! -- end aweber signup form -->