Home

›
Birthday Cupcakes
› Birthday Cupcakes
Birthday Cupcakes
With three children in the house, we seem to spend hours each year deciding which recipes and decorations we will be using on the birthday cupcakes. 

We spend so much time looking at magazines and "surfing the net" to get inspirations for that "special" party idea.
These days the children prefer individual cupcake birthday cakes over the more traditional birthday cake. It is also easier for the party hostess as there is no cutting, each birthday cupcake is of equal size (which means no fighting), and less mess. Teachers also love you when you turn up at school with birthday cupcakes.
Younger children love anything colorful and girls never seem to tire of pink. My son has always been more relaxed than my girls about his birthday cupcakes, but his favorites have been animals and cars. 
It doesn't matter who is celebrating a birthday - it may be a first birthday or a 100th birthday. Every birthday is special and the birthday person deserves a treat.
There are so many ways to decorate birthday cup cakes. A plate or tower of cupcakes can be iced very simply but look very effective if other decorations are also used.
A bunch of colorful balloons floating away look great and are very easy to decorate.
A bunch of flowers tied with a nice big bow are perfect for the young lady in the house.
A crawly caterpillar is another easy solution that can be made as big or small as you wish. These three birthday ideas can be made so that each guest receives their own cupcake.
An easy way to have an ice-cream cake without the mess of ice-cream melting on a hot day or the children freezing on a cold day is another idea. Cupcakes placed in ice-cream cones and iced with buttercream frosting and topped with sprinkles or a chocolate bar look like the real thing. 
Have you ever had swimming pool cupcakes? These are perfect for a beach or pool party.
Magic garden cupcakes look cute and are very quick to assemble.
A favorite for a teenage birthday party are hamburger cupcakes. These are really easy to assemble but look as if you have spent ages in the kitchen!!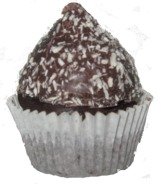 Another simple decorating idea for birthday cupcakes is to frost cupcakes with pale blue frosting, add a jelly baby and a paper umbrella - you've got a beach scene.
Or, how about a snowball cupcake? These are simply a chocolate cupcake with a little chocolate frosting and topped with a snowball. Snowballs are available at the supermarket and they are chocolate coated marshmallows. Yum!
Yellow frosting with a smiley face drawn on it in either edible black gel or piped dark chocolate, is guaranteed to bring a smile to everyone's face.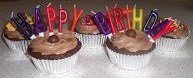 Once I show you some of my tricks to decorating birthday cupcakes you will find that the preparation does not take long. The most time-consuming part will be deciding which idea to follow.
For a small child individual cupcakes with a candle for the birthday child is all that is needed. A plate of similarly frosted cupcakes, one with the required number of candles, is an easy way of organising a birthday cake.
Or, you can frost the birthday cupcakes and use chocolates or lollies as toppings. Take a walk down the confectionery aisle at your local supermarket and use your child's favourite sweets as cupcake toppers.
Put a hair scrunchie around the cupcake base and you have a party favor that any little girl would love to take home. Pop the birthday cupcake in a noodle box with a couple of balloons and some lollies and your guests get something to eat and something to keep.
When it comes to an adult's birthday, there are still lots of choices for birthday cupcakes. For my cousin's recent 50th birthday, I made chocolate cupcakes and frosted them with chocolate ganache. On some I sprinkled red edible glitter and on the others I piped dark chocolate "50" onto white chocolate buttons. We had to keep reminding Jacquie of her age, as she is the first to have the big milestone birthday!! 
A cake that always gets laughs and people of all ages love is a giant cupcake cake. Follow these easy instructions on how to make this special cake-sized cupcake, which is perfect for any birthday party.
---
If you have a photograph, story or suggestion about birthday cupcake ideas we would love to hear from you. Please contact me so we can share your experiences.
Share your birthday cupcake ideas
Have you made cupcakes for a birthday party? Or, have you seen some that looked fantastic. We would love to hear your stories. Share it!
What Other Visitors Have Said
Click below to see contributions from other visitors to this page...

Home

›
Birthday Cupcakes
› Birthday Cupcakes