Home

›
Birthday Cupcakes
› Giant Cupcake Cake
Giant Cupcake Cake
Have you ever made a Giant Cupcake Cake?
These giant cupcakes (also called a big top cupcake) are fun to make and decorate and the children love them. They are ideal for a birthday party.
A giant cupcake pan consists of 2 molds in the same pan - the bottom of the cupcake and the top.
I made my chocolate cupcake recipe which also makes into a good size cake. You need to 3/4 fill the cupcake pan (top and bottom) and bake until a skewer inserted in the middle of both comes out clean. The bottom takes longer to cook as this half of the pan is much deeper and wider. Keep checking as you do not want to burn the top half.
When the cake has cooked and cooled, join the two halves together using a buttercream frosting.
Frost the top and decorate as desired.
There are many ways to decorate the large cupcake cake. The one pictured was for the family and I didn't frost the bottom of the cupcake. For a party it looks great with fruit sticks attached in rows to the bottom, or alternating milk and dark chocolate fingers make the base look like a cupcake case. Piped buttercream down the sides also resembles a cupcake case.
The top can be decorated with sprinkles, edible toppers, chocolates, or swirled buttercream frosting.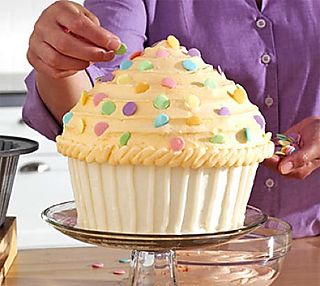 For a birthday, you could make a cupcake cake and a batch of mini cupcakes and serve and frost them all the same. Serve the cupcake cake on top of a tiered cupcake stand with the smaller cupcakes on the lower tiers.
To make these giant cupcakes you really do need the giant cupcake pan which creates a 3D cupcake that measures approximately 7-1/4 by 7-1/2 inches. The design of the pan features sculptural details for charm and fun decorating.

The Wilton pan has a 10 cup capacity and is made of heavy-gauge cast aluminium with a nonstick surface.
Home

›
Birthday Cupcakes
› Giant Cupcake Cake