Home

›
Cupcake Recipes
Cupcake Recipes
Cupcake Recipes for perfect cupcakes everytime - just follow these quick, easy recipes suitable for any occasion.
A friend of mine once said "why do we spend so long making the cake when all the children want to eat is the icing?" I don't know which recipes she was following, but by following these your guests will be asking for more cake.
Find delicious, quick, and easy cupcake recipes suitable for family gatherings, morning/afternoon teas and for special occasions. A great selection of free recipes including boiled fruit, chocolate hazelnut, chocolate mud, red velvet butterfly cupcakes and many more.
Most of my cup cake recipes are very easy to make and some don't even require the mixer. My orange and poppy seed recipe is a real winner as everything goes in the blender, including the orange!
I have a couple of recipes that are slightly more time-consuming but believe me, they are well worth the extra effort.
"You can't even look at a cupcake without smiling."
This page contains my favorite cupcakes recipes. I hope they will soon become your favorites too!!
Chocolate Cupcakes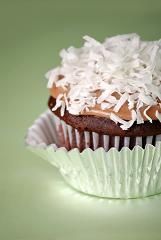 Black Forest cupcakes
- delicious blend of chocolate cake with cream and cherries.
Brownie cupcakes
- it seems that everyone loves cupcakes and everyone loves brownies so combine the two to make wonderful rich, moist brownie cupcakes.
Choc cinnamon meringue cupcakes
- these cupcakes have a baked-on topping so can be eaten as soon as they come out of the oven.

Choc mallow cupcakes
- these deliciously moist marble cupcakes have a baked-on marshmallow topping and then they are drizzled in chocolate. Unforgettable.

Chocolate cupcakes
- this recipe is fool-proof. It is one of those recipes that I just keep coming back to.

Chocolate apple cupcakes
- really quick to make as all ingredients go in the food processor togther. Very moist.

Chocolate hazelnut cupcakes
- a bit more time-consuming to make but well worth the extra effort. Yummy.

Chocolate mud cupcakes
- rich and dense. Chocolate mud cupcakes are ideal served as a dessert,especially when topped with whipped cream and a berry coulis.

Chocolate obsession cupcakes
- this has now become the main chocolate cupcake recipe I use. I don't usually mention that they are vegan cupcakes until after everyone has asked me for the recipe! These cupcakes keep really moist and last for several days.

Chocolate raspberry cupcakes
- chocolate and raspberries always seem to be the perfect pairing. This cake always has guests coming back for more. Ideal for afternoon tea.

Marble cupcakes
- children's favorite. I usually make a marble cake with traditional white, pink and chocolate but you can make whichever flavors and colors you choose.

Microwave Cupcakes
- All you need is your ingredients, coffee mug and a microwave and you will be enjoying your chocolate cupcakes within five minutes.

Mocha cupcakes
- delicious blend of coffee and chocolate.

One bowl chocolate cupcakes
- this recipe is Martha Stewart's One-Bowl Chocolate Cupcakes, and as the name suggests, they are super easy because they are made ...guess what ... in one bowl.
White chocolate mud cupcakes - moist white mud cupcakes topped with Cherry Ripe and white chocolate ganache.
Coffee Cupcakes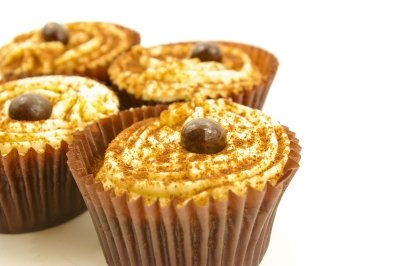 Coffee and walnut cupcakes
- light and tasty cupcakes, made with sour cream.
Mocha cupcakes
- delicious blend of coffee and chocolate.

Quick coffee cupcakes
- try these fresh from the oven with a little cream or custard. These cupcakes make a wonderful and quick dessert.
Fruit Cupcakes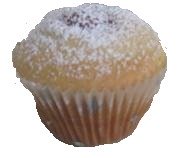 Almond raspberry cupcakes
- really moist cake mixture which keeps well for a few days. The cooked-on almond topping makes this another of those wonderful recipes that can be eaten straight out of the oven. If you are like me and love raspberries, you must visit Raspberry Recipes. It is a website full of amazing raspberry recipes, information about growing raspberries, raspberry nutrition and much more.

Apple cupcakes
- vanilla cupcake with a surprise center of stewed apple.

Banana cupcakes
- I make this whenever I have overripe bananas. Very moist cupcakes that keep well.

Berry cupcakes
- can be made using any frozen berry. Choose your favorite berry to add to this fluffy, moist cupcake.

Boiled fruit cupcakes
- the easy alternative to the more traditional rich Christmas fruitcake.

Fruit cupcakes
- this is a more traditional rich cake recipe. Ideal recipe to use when decorating with fondant for Engagements, Wedding, 21st birthdays and Christmas.

Fruit mince cupcakes
- I love fruit mince pies (mincemeat pies) but used to make these when I don't have time to make pastry. Topped with brandy buttercream these are delicious. They have now become a Christmas "must" in my household.

Hummingbird cupcakes
- my husband's favorite. It has a great texture and keeps really well. I always find that the flavor is even better a couple of days after I have made it.

Peach Streusel cupcakes
- this peach cupcake recipe is really delicious. The streusel topping turns this easy cupcake recipe into a fantastic dessert cupcake. If you are like me and love peaches and are interested in more recipes, you must visit Peach Recipes. This website is full of great information about growing peaches, peach nutrition and the health benefits of peaches as well as general information about this delectable fruit.
Citrus Cupcakes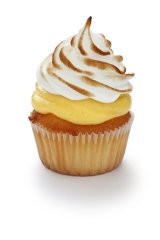 Lemon crumble cupcakes
- delicious served warm from the oven. Add a dollop of cream and you'll be in "lemon heaven".

Lemon meringue cupcakes
- perfect for afternoon tea. They are quick and easy to make but look as if you have spent hours in the kitchen!

Lemon semolina cupcakes
- this recipe was given to me by an elderly Italian neighbor.
Lime cupcakes
- light citrus cupcake using only 50g butter.
Orange and poppy seed cupcakes
- should keep quite well. I never get to find out as they are always eaten on the day I make them! I love throwing everything in the food processor together, including the whole orange. This is great with cream cheese frosting.

Orange blossom cupcakes
- has a very delicate citrus flavor. Topped with frosting containing white chocolate it is perfect for afternoon/morning teas.

Orange Syrup cupcakes
- cupcakes remain moist as the syrup soaks into the cake and spread the flavor.
Vanilla Cupcakes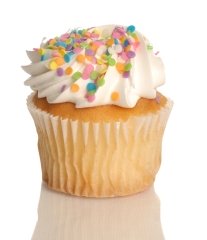 Best ever vanilla cupcakes
- this vanilla cupcake recipe came out of a magazine many years ago. It is now a scrunched up, tatty piece of paper and I have no idea where it came from. What I do know is that these vanilla cupcakes are easy and delicious.
Boston cream cupcakes
- Boston cream pie is a very time consuming dessert to make, however, Boston cream cupcakes capture the flavor beautifully with much less effort.

Butter cupcakes
- very light and moist. Great to use with any frosting.

Butterfly cupcakes
- who can resist a butterfly cupcake? So many different fillings can be used to dress up this cupcake. Ideal for afternoon/morning tea or any special occasion.
Coconut ice cupcakes
- these cupcakes look so cute and are perfect for a little girl's birthday... although I do also make them for a big girl's birthday. They are so light and seem to melt in your mouth.

Jello cakes
- another of my family's favorites. My mother and grandmother always used pink (raspberry or strawberry) jelly so that's what I do, however, I have a friend who uses orange jelly and they are also really popular. Mum always made jelly cakes for birthday parties but my family want them more often than that!

Marble cupcakes
- children's favorite. I usually make a marble cake with traditional white, pink and chocolate but you can make whichever flavors and colors you choose.

Mini tea cakes
- a smaller version of the always-popular cinnamon teacake.

Sponge cupcakes
- light and delicate, the sponge cupcake is so versatile and can be used with any frosting. It's like eating air (but tastier).

Vanilla cupcakes
- the every popular vanilla cupcake. Everyone needs the perfect cupcake recipe and this is it. Doesn't matter how many cupcake recipes I try my family keep begging me to make this one.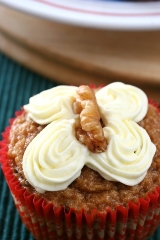 Carrot Cupcakes
Carrot cupcakes
- fantastic when topped with cream cheese frosting. Keeps well in the refrigerator for several days.
Spice Cupcakes
Gingerbread cupcakes
- spicy and moist, these gingerbread cupcakes are really quick and easy to make.
Red Velvet Cupcakes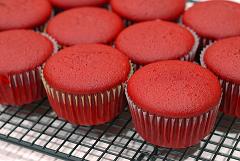 Red velvet cupcakes
- tastes fantastic and keeps really well. Teams up well with buttercream frosting or cream cheese frosting. Ideal for Valentine's Day and Christmas because of the beautiful rich red color.
Honey Cupcakes

Honey cupcakes
- This recipe for honey cupcakes was created by White House executive pastry chef Bill Yosses. They are really moist and keep very well.

---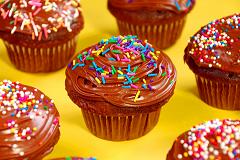 These cupcake recipes are all perfect for afternoon tea. Check out Afternoon Teas Please for some great advice to help you plan a perfect afternoon tea to share with your family and friends. This is the best place to visit for ideas and information on different types of Tea.
Click here to add your favorite cupcake recipe or to read the recipes that others have submitted.
---
Visit my Cupcake Shop for a range of cupcake products, including cookware.

If you've spent all day baking and need some inspiration for the evening meal, I would recommend Easy Casserole Recipes This website is the solution when you're short on time and ingredients. Have a look, you're sure to find a casserole to please.

If you love Italian food, you must visit All About Italian Food for great recipes. This site is packed with information about Italian food, culture and traditions.
Another website that is worth visiting is Recipes from Home. It is full of free recipes which are very easy to make. I love the section on pancakes!!

Old Fashioned Recipes is full of home-style food ideas. Each recipe has been hand-picked for its taste, and most have a delightful story behind their inclusion in the website.

To complement the recipes you will find in these websites, you are sure to find the perfect salad at Creative Salad Recipes. It has fantastic salad ideas and fruit salad recipes that you will love.
Home

›
Cupcake Recipes