Coconut Cupcake Recipe
This Coconut Cupcake Recipe is easy to make and they look and taste great. The pale pink coconut topping adds texture to the light base.
This coconut cupcake recipe is like the old-fashioned coconut ice that your grandmother or mother used to make. I remember coconut ice was a Christmas treat. I look at coconut ice these days and wonder how I ate it, as it is so sweet.
With this recipe, however, you can still enjoy the texture and flavor of the coconut ice but it is not so sweet as it is only a thin layer on top of these gorgeous coconut and vanilla cupcakes.
These cupcakes are perfect for afternoon tea or for a girl's birthday party. I love making the topping a pale pink but a chocolate topping is definitely preferred by the boys in this household.
| Prep Time | Cooking Time | Servings | Difficulty |
| --- | --- | --- | --- |
| 10 minutes | 12 minutes | 12 | Easy |
Ingredients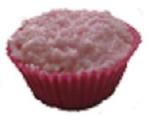 3oz (80g) butter, melted
2/3 cup caster sugar
2 tspns vanilla essence
1 egg, lightly beaten
2/3 cup shredded coconut
1 cup self-raising flour
2/3 cup milk
Method

Preheat oven to 180C (350F).
Line cupcake trays with cupcake papers.
Beat butter, sugar, vanilla essence, egg, coconut, sifted flour and milk in a bowl until well combined.
Spoon mixture into cupcake trays.
Bake for 10-12 minutes or until a skewer inserted into the center of a coconut ice cupcake comes out clean.
Leave cakes in trays for 1 minute before turning onto a wire rack to cool.
Coconut ice topping
1 cup shredded coconut
2 cups icing sugar
1 tspn butter, softened
Pink food coloring
Combine coconut, icing sugar and butter in a bowl.
Gradually stir in 1/4 cup hot water until mixture is a spreadable consistency.
Stir in 2/3 drops of food coloring.
Spread topping over coconut ice cup cakes and leave until set.
Variations
Instead of adding pink food coloring to the topping, blend 1 tblspn cocoa with 1 tblspn boiling water. Add to remaining topping ingredients.
<! -- aweber signup form --> <! -- end aweber signup form -->