Vegan Cupcake Recipes
A vegan (VEE-gun) is a person who consumes only plant foods such as vegetables, grains, legumes (beans and peas), fruits, nuts, and seeds.
Vegans avoid all animal foods including meat, fish, poultry, eggs, cheese, milk, butter, and honey.
Whether you have become a vegan, or you are cooking for someone who is, it may at first it may seem like the entire diet is restricted. However, there are vegan alternatives for all kinds of foods, from main courses to desserts!

Even vegans can't live without cupcakes so I have included some vegan cupcake recipes.

The recipes are all for dairy-free cupcakes, so if you have a dairy allergy these are perfect for you.


Chocolate Cupcakes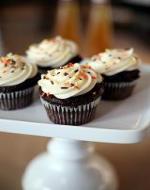 Chocolate obsession cupcakes
- this has now become the main chocolate cupcake recipe I use. I don't usually mention that they are vegan cupcakes until after everyone has asked me for the recipe! These cupcakes keep really moist and last for several days.
Mocha raspberry cupcakes
- quick and easy to make. These cupcakes are sure to be a hit with your guests.
Ginger Cupcakes
Gingerbread cupcakes
- another winner in my family. Even though none of us are vegans it is a recipe that we all enjoy.
Fruit/Vegetable Cupcakes
Banana cupcakes
- are always popular. I make banana cupcakes whenever I have over-ripe bananas in the house. I can't bear throwing them out!
Carrot cupcakes
- these cupcakes contain orange juice instead of eggs, which serves to bind the ingredients together.
Pumpkin cupcakes
- perfect if you enjoy a more traditional fruit cake.


Vanilla Cupcakes
White cupcakes
- this recipe really does make light, fluffy cupcakes. These cupcakes are perfect for birthdays, classroom parties, or other special occasions.
Keep coming back to my website as I will be adding more recipes for vegan cupcakes.
Visit my Cupcake Shop for a range of cupcake products, including cookware.




Share your Vegan cupcake recipe
Do you have a recipe for vegan cupcakes that you would like to share? Sweet or savory, vanilla or chocolate, we would love to hear your favorite cupcake recipes.
What Other Visitors Have Said
Click on the links below to see some great gluten-free cupcake recipes. They were all written by other visitors to this page.

<! -- aweber signup form --> <! -- end aweber signup form -->