Cupcake Decorations
I love thinking of ideas for Cupcake Decorations even though I don't really enjoy cake decorating. You get several attempts and near enough is usually good enough.
When there is a plate or tower of 20-40 cupcakes, or more, it doesn't matter if some of them are not perfect. Grouped together they will look fantastic.
I like to use edible cup cake decorations. I do not like using plastic toppers or paper cut-outs, as small children can so quickly take a bite out of a yummy cupcake and swallow the topper.

I love home-made toppers that are quick and easy to make ... and also look great.
Another idea is to experiment with your frosting colors. Rather than frost them all the same, divide mixture into three or four small bowls and add different color to each bowl, Pipe frosting onto cakes in a spiral motion and top with sprinkles or candies, if desired.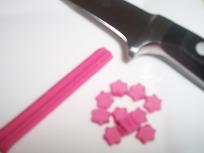 If you're stuck for ideas for cupcake decorations, visit the local supermarket and browse in the candy aisle. Honeycomb, maltesers, jaffas, boiled sweets all make fantastic toppers.
Did you know that if you slice a musk stick it makes great star shapes?
Edible sugar toppers are readily available at the supermarkets so you can buy these to blend in with your theme. There is a huge variety of edible cupcake decorations readily available.
Chocolate is great for cupcake decorating as it can be melted and transformed into so many different "looks". I pipe chocolate, I make chocolate leaves, I grate or shred chocolate, I make chocolate curls, I drizzle chocolate and I make chocolate shapes. These can all be done with white, milk and dark chocolate. Click here to follow my step-by-step instructions on working with chocolate.

Chocolate cookies
are another favorite with my family. These gorgeous little wafer biscuits are slightly bitter in flavor, but blend beautifully with the sweetness of
buttercream
or
cream cheese
frosting. They can be made in whichever size or shape suits the theme of your cupcakes. I love heart and star shapes. The cookies and frosting team up beautifully with
red velvet
cupcakes.
I also make stainglass figures and flowers. Click here for step-by-step instruction on making these shapes. You can transform a simple cupcake into a work or art using this floodwork method. All you need is a little imagination.


The other day I came across these gorgeous butterfly cupcakes with fantastic butterfly wings. I found them on Maria's blog Chef Mommy. Maria's started her blog to catalog some of the meals she makes for her family. Her recipes are easy to follow and family friendly.

Think of who you are making and decorating cupcakes for and what they like. If they love a colour or a theme it immediately narrows down your choice of cupcake decorations which makes the job a lot easier for you!!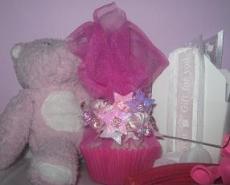 When it comes to imagination, try making cupcake cosies. It is easy to wrap your cupcakes in these pieces of fabric. For lots of people it is easier to wrap cupcakes than to frost cupcakes. You many find it easier as well. The results will definitely amaze you!






Share your favorite cupcake decorating idea
How do you decorate your cupcakes? What is your favorite cupcake/frosting combination? Do you have photographs of cupcakes that you can share with us? We'd love to see pictures of your cupcake masterpieces.

Did the children make cupcakes and decorate them?

Is there a story to share as well?

Let's share our successes.
What Other Visitors Have Said
Click below to see contributions from other visitors to this page...

Cupcake Decorating
Hello Cupcake Fans! You are my inspiration for "Cupcake Crafts". I live in a very rural area where supplies are limited at best. I searched for weeks …
New Years cupcakes
Hi! I was wondering if you had any ideas for New Year cupcakes, as I have no idea how I should decorate them. Thanks for your question about New …
<! -- aweber signup form --> <! -- end aweber signup form -->