Butterfly Wings
You won't be able to host a party without making these gorgeous butterfly cupcakes. Just look at the stunning Butterfly wings.
Maria from
Chef Mommy
is sharing her instructions for making these butterflies. Thanks very much Maria. Maria's blog is full of great recipe ideas which are all easy to follow and very family friendly.
What You Need:
Cupcakes baked in paper liners
Dark cocoa melting wafers
Colored candy melting wafers (I used yellow and pink)
White nonpareils
Vanilla Frosting
Food coloring (for the frosting)
You'll Also Need:
Ziploc bags
Squeeze bottle
Toothpicks (I liked the double sided kind)
Stiff cardboard-type paper
Wax paper
1. On a piece of paper draw the templates for the butterfly wings and antennas. Cut small squares of wax paper.
2. Place 1 cup of the dark cocoa wafers in a glass bowl and melt according to package directions in the microwave. Stir well to make sure it is all well melted. Pour into a squeeze bottle.
3. Add 1 cup of colored wafers into a Ziploc bag (do not seal bag), then microwave for 10-15 sec increments. Massage the bag as you go along till all the wafers are melted. Snip 1/16 inch corner from the bag for piping.
4. Working one wing at a time, outline the templates on the wax paper with the dark cocoa. Work quickly because the wafers will start to set. I also had a mug filled half way with very hot water nearby. I put the squeeze bottle in the mug to keep the cocoa melted in between each wing set.
5. Using the colored melted wafer, fill the inside. Use a toothpick to gently spread the colored cocoa to fill the wing.
6. While the candy is still soft, use a toothpick to pull the outside dark cocoa into the colored middle part, to create a pattern.
7. Add a few sprinkles before the wings set. Then set aside to dry.
8. Use the dark cocoa to make the antennas, set aside to dry.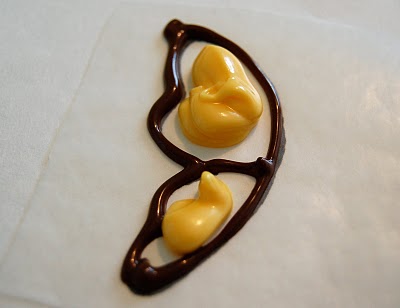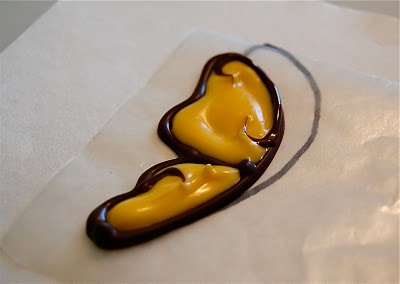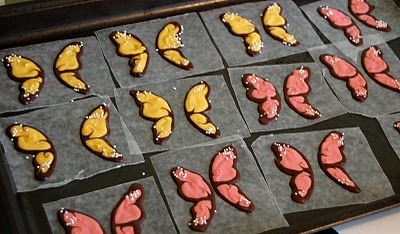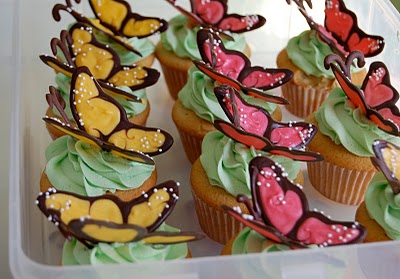 9. Once the butterfly wings are completely dry, gently peal them from the wax paper. Fold a piece of stiff construction paper, then open and place inside a bowl to held hold it's shape. Fold the wax paper in half also and place on top of the stiff paper, then add the wings so they are touching each other. Pipe dark cocoa in between the two wings to make the body. Keep the butterfly in the two papers till completely dry.
10. Tint the icing with food coloring and pipe on top of the cupcakes. Add the butterflies and then the antennas. Voila!
<! -- aweber signup form --> <! -- end aweber signup form -->