Cupcake Theme Party
A cupcake theme party is a really popular party theme, especially for first birthdays, but is really suitable for all ages. Little girls love cupcakes and they love pink, so combine these two loves and have a pink cupcake theme, full of cupcake party games.
Are you looking for cupcake party ideas? Well, you can make your own cupcake birthday invitations, play cupcake party games and, of course, eat cupcakes. Give each child a cupcake to take home and the birthday is sure to be a huge success with your young guests.

If you are having a cupcake theme party, you should follow my instructions on making a cupcake pinata. It doesn't take long to make, however, you must allow a couple of days for it to dry. I would recommend starting to make the pinata about a week before it's needed. You can decorate the pinata as simply or as creatively as you want.
The first time I made a pinata, I coated it in about 12 layers of newspaper. The children could not break it. We ended up getting out the golf clubs. I was worried the circular saw would be coming out next! Although you want it strong you only need about 4-5 layers of newspaper to make a very sturdy pinata.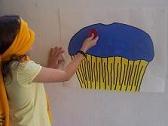 A cupcake game that all children love is "
Pin the Cherry on the Cupcake
. This game is suitable for children of all ages and is always a "hit" at a cupcake theme party.
You can buy fabric versions of the cupcake party game, but I always love a home-made copy that the children can help decorate.
When you want to keep the little guests occupied, get them to frost and decorate their own cupcakes. Make a batch of vanilla and chocolate cupcakes, have bowls of different coloured frosting and a variety of sprinkles, candies and edible toppers and let the kids go wild! They can either eat their cupcake immediately or take it home with them.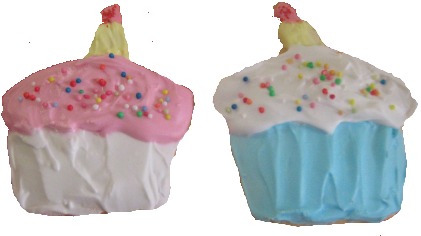 If you want to serve cupcakes as the birthday cake, make cupcake cookies and the children can decorate them instead.

A giant cupcake cake would be the perfect birthday cake for your cupcake theme party. Decorate cupcakes to match the large cake-sized cupcake and the children can take their very own birthday cake home.

Wrap cupcakes in a cupcake cosy tied with a bracelet or hair scrunchie and you have a perfect cupcake party favors.

My children love painting plaster shapes and it is a great activity for a cupcake theme party. Cupcake shaped moulds are readily available, so make up some shapes prior to the party and let the children paint. Supply acrylic paints and have a range of glitter, beads, sequins etc to adhere to their faux cupcakes. My nine year old daughter and her friends love painting these and the finished results look spectacular and are really individual.
If you feel that paints are too messy for the party, draw a cupcake and copy it so that there are enough for each guest to receive one. Supply pencils and textas and let the children color it in.
A cupcake theme party is easy to organise and these party ideas will ensure that your party is a huge success.
I love a colorful tablecloth and these cloths,napkins and plates will really kick-start your decorations.
| | | |
| --- | --- | --- |
| | | |