Faux Cupcakes
Plaster cupcakes, or faux cupcakes are so easy to make and decorate. I do, however, tend to do the 'making' and the children do the decorating. They get the fun part!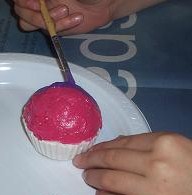 However, they are not only a children's activity. I love having time to myself when I can make them without the children wanting to help!
Below are instructions on how to make colored cupcakes. You can also make them plain, without adding paint, and then paint and decorate afterwards.
You will need:
Cupcake liners and cupcake tins, or cupcake molds
Mixing bowl
Small plastic bowls for "frosting"
Piping bag and decorating tips
Acrylic paints
Beads and glitter, if desired
Plaster
Instructions
These instructions are for using cupcake liners, followed by the variations for using molds.
Mix up a quantity of powdered plaster and water in your mixing bowl, as per plaster instructions.
Pour into cupcake liners. If using cupcake liners I would recommend placing these in cupcake trays to help keep their shape. Fill liners to the top.
Leave to set for 30 minutes.
You need to prepare the 'frosting' by mixing more plaster and water and adding acrylic paint to achieve the desire color.
Place frosting in piping bag and pipe frosting onto your faux cupcake. I use a star shaped nozzle and start from the outside edge working inwards.
If you are decorating with beads and glitter you need to add them whilst the plaster is still slightly damp.
If you are using cupcake molds, you work from the top down. You therefore pour colored plaster into the mold first until you reach the bottom of the frosting portion of the cupcake.
Leave to dry for about 30 mins and then add plaster in the cake color. After about another 30 minutes you can remove the cupcake from the mold.
If you wish to add glitter and beads you will need to attach with craft glue.
Faux cupcakes make the most beautiful yummy display ~ perfect for your party, morning tea, afternoon tea, or to show off to some of your family and friends on your favorite china or silverware.
These cupcakes make the perfect Birthday Gift or a great gift for any occasion.
Don't Have Time to Make Plaster Cupcakes?
There are some gorgeous faux cupcakes available to buy. Here are a selection of my favorite plaster cupcakes.
| | | |
| --- | --- | --- |
| | | |