Home

›
Cupcake Recipes
› Red Velvet Cupcakes
Red Velvet Cupcakes
Red Velvet Cupcakes are a dense, moist cupcake. They are ideal anytime, but especially suitable for Christmas, Valentine's Day or Halloween because of their gorgeous deep color.
These cupcakes can be butterflied. The bright red cupcake teamed with the cream of the frosting looks really impressive. Alternatively frost and place a chocolate cookie on top. A heart shaped cookie is perfect for Valentines Day. Or, if you haven't got the time to make the cookies, a heart-shaped chocolate is sure to impress!

| | | | |
| --- | --- | --- | --- |
| Prep Time | Cooking Time | Servings | Difficulty |
| 20 minutes | 12 minutes | 18 | Medium |
Ingredients: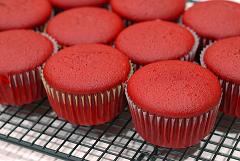 2 cups cake (self-raising) flour
2 tablespoons cocoa
1/4 teaspoon baking soda
1/2 teaspoon salt
3/4 cup buttermilk*
2 tablespoons red food coloring
120g (1/2 cup) butter, at room temp
1 cup plus 2 tablespoons granulated sugar
2 large eggs, at room temp
1/2 teaspoon vanilla
Preparation:
Preheat the oven to 325F (160C).
Line cupcake pans with cupcake liners.
Sift together flour, cocoa, baking soda and salt.
Cream the butter, sugar and vanilla using an electric mixer, until the mixture is pale and fluffy.
Add the eggs one at a time, letting the eggs beat for 1 minute in between additions.
Measure out the buttermilk and add red food coloring.
Add the dry ingredients alternately with the wet ingredients.
Spoon into paper lined cupcake pans. Bake for 12 minutes or until a skewer inserted in the center of a red velvet cupcake comes out clean.
Sometimes I decide to make red velvet cup cakes but don't have any buttermilk. Add 1 tbsp vinegar to 3/4 cup milk and let stand for 5 minutes before adding to recipe.
Home

›
Cupcake Recipes
› Red Velvet Cupcakes