New Years cupcakes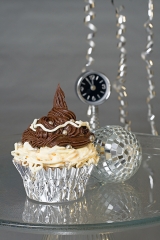 Hi! I was wondering if you had any ideas for New Year cupcakes, as I have no idea how I should decorate them.


Thanks for your question about New Year's cupcakes.
I really think that anything goes for New Year's Eve as long as it has a party feel to it.
You can easily pipe the year with chocolate and let set and then after the cupcakes have been frosted the chocolate year can sit on top (as in the picture above).
I also love the idea of luxury and I think strawberries dipped in chocolate appear luxurious and decadent. Make chocolate or strawberry cupcakes and frost with buttercream and place a chocolate dipped strawberry on top.
Bake cupcakes in silver cupcake papers and frost with buttercream and then cover in edible silver glitter. You can add a sparkler to each cupcake to really complete the party look!
There are also some fantastic cupcake picks available either at the shops or online to dress up your cupcakes. Or, make some yourself. Cut out stars in silver or gold card and attach to wooden skewers or toothpicks. If these are cut in random sizes a couple can be added to each cupcake. If you use gold card, bake the cupcakes in gold foil cupcake wrappers, and if you have silver stars use silver wrappers.
If you use cupcake picks all you need is buttercream frosting and sprinkle with edible glitter or sprinkles.
I am getting quite excited and am keen to make some New Years cupcakes myself.
Whatever you choose, the result will be fantastic.
Regards