Home

›
Cupcake Recipes
› Boston Cream Cupcakes
Boston Cream Cupcakes
Boston cream pie is a very time consuming dessert to make, however, Boston Cream Cupcakes capture the flavor beautifully with much less effort.
Make some cupcakes and turn them into Boston cream cup cakes. The cupcakes have surprise creamy, vanilla centers and dark, rich chocolate tops.
These are a very impressive dessert, especially when you have limited time to prepare.
The cupcake mixture resembles a sponge cake and doesn't require butter. Make sure you beat the mixture until it is light and fluffy.
Friends tell me that they are dreadful "sponge cooks" and if you fit into that category any vanilla cupcake recipe would be suitable.
To save time you could even use a packet cupcake mix and follow the instructions for the custard and frosting.
| | | | |
| --- | --- | --- | --- |
| Prep Time | Cooking Time | Servings | Difficulty |
| 5 minutes | 15 minutes | 6 Large | Medium |
Ingredients: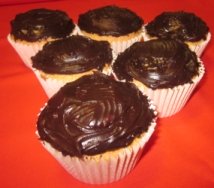 Cupcakes:

2 eggs
6 Tbsp sugar
1/4 tsp salt
1/2 tsp vanilla extract
1/2 cup all-purpose (plain) flour
Custard:

1/4 cup sugar
2 tsp cornstarch/cornflour
1/2 cup milk
1 egg yolks, lightly beaten
1/2 tsp vanilla extract
1 Tbsp butter, softened
Preparation:
Cupcakes:
Preheat oven to 175F (350F).
Line a cupcake tray with liners.

In a small bowl, beat eggs until light and fluffy.

Gradually add sugar and salt, beating until thick and lemon-colored, about 5 minutes.

Stir in vanilla. Fold in flour, 2 Tbsp at a time.
Spoon into a cupcake pan and bake 15-20 minutes or until cakes springs back when touched. 
Cool for 10 minutes before removing from pans to cool completely.


Custard:
In a small pan, combine sugar and cornstarch.

Pour in milk and stir until smooth.

Cook and stir over medium heat until thickened and bubbly.

Reduce heat; cook and stir 2 minutes longer. Remove from heat and stir in vanilla extract.

Stir in egg yolk and butter.
Cool to room temperature.
To Assemble Cut a hole out of each cupcake middle.
Spoon custard into the center of cupcake and replace cut out section.
OR
If you are short of time the easy way to assemble boston cream cupcakes is to slice cupcakes in half and spread custard over the bottom half.
Home

›
Cupcake Recipes
› Boston Cream Cupcakes