Home

›
Cupcake Frosting Recipes
› Chocolate Ganache
Chocolate Ganache
Chocolate Ganache is a very rich chocolate frosting made from chocolate and cream. This cupcake frosting tastes fantastic - I don't think there is a low calorie recipe. You just have to eat and enjoy!
I never used to make ganache as I always thought it was a difficult cupcake frosting to master. Now that I have this simple frosting recipe, I usually have ganache in the fridge. It keeps well and I have discovered that it is "just right" for so many cupcakes and desserts.
I always think that a ganache transforms a cupcake into a dessert. Chocolate mud cupakes frosted with ganache look spectacular but are not very difficult to make. Top it with a chocolate and you and your friends will be in chocolate heaven.
This rich, dark frosting is fantastic for piping onto cupcakes. Place in the refrigerator for a few hours, or overnight, and the mixture is the perfect consistency to pipe.
I usually make the chocolate ganache the day before it is needed and place in the fridge overnight and I don't usually bother to beat it.
This ganache can also be transferred to a a bowl of an electric mixer and beaten until cool and thick. This gives the ganache a much lighter, creamier texture.
Do you like chocolate topping? My family love it when I make extra ganache as they really enjoy having the runny ganache with ice-cream. Or, make my chocolate cupcakes and serve fresh from the oven with ganache and ice-cream. They are a perfect chocolate pudding but they taste so much lighter.
| | | | |
| --- | --- | --- | --- |
| Prep Time | Cooking Time | Servings | Difficulty |
| 5 minutes plus refrigeration | 2 minutes | -- | Easy |
Ingredients: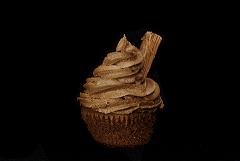 4½ fl oz (150ml) whipping cream
8oz (225g) chocolate
Preparation:
Put chocolate and cream into a saucepan and heat gently, stirring until chocolate has melted and mixture is smooth.
Variation:
White, milk or dark chocolate can be used, depending on the cupcakes.
Home

›
Cupcake Frosting Recipes
› Chocolate Ganache