Home

›
Cupcake Recipes
› Fruit Mince Cupcakes
Fruit Mince Cupcakes
Mincemeat cupcakes, also called Fruit Mince Cupcakes, are ideal to be served any time between Christmas and New Year.
They are quick and easy to make and taste great. I love them served with buttercream frosting.
I usually follow this recipe exactly and spoon a little cupcake mixture into trays, topped with fruit mince and then more cupcake mixture. However, I have also added a heaped tablespoon of fruit mince (mincemeat) to the cupcake mixture and gently stirred until just combined. This gives a fruity flavor throughout the cupcake, rather than just a sweet fruit flavor in the middle of each cupcake. However you decide the make them, they will taste fantastic!
If you are looking for more Christmas Cupcake recipes, click here.
| | | | |
| --- | --- | --- | --- |
| Prep Time | Cooking Time | Servings | Difficulty |
| 15 minutes | 12 minutes | 15 | Medium |
Ingredients: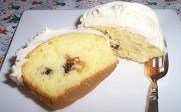 2oz (60g) butter
1 1/4 cups Self raising flour
1/2 cup sugar
2 eggs
1/4 cup milk
1 tsp vanilla essence
Fruit mince (mincemeat)
Preparation:
Preheat oven to 400F (200C).
Place butter, flour, sugar, eggs, milk and vanilla essence in small bowl of electric mixer and beat until combined.
Place cupcake liners in tray.
Place a tbsp of mixture in each liner.
Using a dampened teaspoon, make a small indentation in the top of each, and into it put 1-2 tsp of fruit mixture.
Cover each with a spoonful of the remaining cupcake batter.
The mincemeat keeps the cupcakes moist and I find that they can be made a day in advance. You can use either home-made or bottled fruit.
Home

›
Cupcake Recipes
› Fruit Mince Cupcakes