Home

›
Cupcake Recipes
› Choc Cinnamon Meringue Cupcakes
Choc Cinnamon Meringue Cupcakes
These Choc Cinnamon Meringue Cupcakes are ready to eat as soon as they come out of the oven.
No need to wait for them to cool and be frosted. Great for when the children are starving and just can't wait another second.
This easy chocolate cupcake recipe makes a dark chocolate cupcake and is perfect teamed up with the meringue, cinnamon and almond topping.
My mom used to make these cupcakes when we were little. My brother and sisters and I always disagreed as to the best part of the cupcake and the best way to eat it. We would always carefully take the meringue off the top and some of us would eat the meringue first and the rest of us would save it till last.
| | | | |
| --- | --- | --- | --- |
| Prep Time | Cooking Time | Servings | Difficulty |
| 20 minutes | 25 minutes | 24 | Medium |
Ingredients: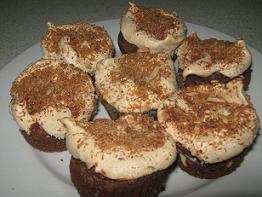 4oz (125g) butter
2/3 cup brown sugar, firmly packed
2 egg yolks
1 egg
1/3 cup cocoa
1 1/2 cups self-raising flour
1 tsp. ground cinnamon
2/3 cup milk
Preparation:
Preheat oven to 160C (325F).
Line cupcake trays with cupcake papers.
Cream butter and sugar in small bowl with electric mixer until light and fluffy.

Beat in egg yolks and egg and beat until combined.
Stir in half the sifted cocoa, self-raising flour and cinnamon with half the milk, then stir in remaining dry ingredients and milk.

Stir until smooth.
Spoon mixture into prepared cupcake trays.
Spread carefully with meringue and sprinkle with topping.
Bake for about 25 minutes.
Cool on wire rack.

Home

›
Cupcake Recipes
› Choc Cinnamon Meringue Cupcakes