Home

›
Cupcake Recipes
› Black Forest Cupcakes
Black Forest Cupcakes
Black Forest Cupcakes combine chocolate cake with cream and cherries.
This easy cupcake recipe is really, really easy to make and the results are magnificent and delicious dessert cupcakes.
A Black Forest cake traditionally consists of several layers of chocolate cake, with whipped cream and cherries between each layer. Then the cake is decorated with additional whipped cream, maraschino cherries, and chocolate shavings.
The cupcake version, however, is much easier. All you need is a beautiful chocolate cupcake that contains kirsch liqueur which is then topped with cream and cherries. No need to make several cakes which need to be sliced in half and filled.
The cupcakes are quicker to make than the cake (and contain much lesss cream) and the results are fantastic.
Although I love the flavor of kirsch, the children don't need it so I often make the chocolate cupcakes and omit the kirsch. I then brush the tops of some of the cakes with kirsch prior to topping with whipped cream. The flavor still gets absorbed into the cakes so they still taste the same for the adults and the children think they are eating the same as me. Only I know the difference!! Just make sure you keep the adult and children cupcakes slightly separate.
| | | | |
| --- | --- | --- | --- |
| Prep Time | Cooking Time | Servings | Difficulty |
| 15 minutes | 20 minutes | 24 | Easy |
Ingredients: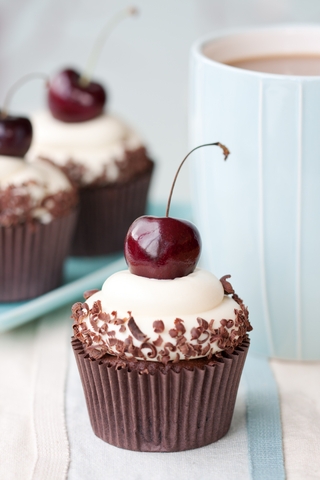 3 eggs, lightly beaten
4oz (125g) butter
1 cup caster sugar
1/2 cup milk
1 1/2 cups self-raising flour
1 tbsp. of kirsch liqueur
1/4 cup cocoa powder
Preparation:
Preheat oven to 160C (325F).
Line cupcake tray with cupcake papers.
In a medium-sized bowl add eggs, butter and sugar and beat with an electric mixer until light and creamy.
Add milk, sifted flour and cocoa powder, and stir to combine.
Beat with electric mixer for 2 minutes, or until light and fluffy.
Fold through kirsch liqueur.
Spoon mixture into cupcake trays.
Bake for 18-20 minutes or until risen and firm to touch.
Allow cupcakes to cool in the tin for 5 minutes before turning onto wire rack to cool.
When cold, top with fresh whipped cream, sprinkle with chocolate shavings and add a fresh cherry.
Home

›
Cupcake Recipes
› Black Forest Cupcakes