Home

›
Cupcake Recipes
› Butterfly Cupcakes
Butterfly Cupcakes
Butterfly cupcakes are perfect for a children's birthday party or morning or afternoon tea.
All you have to do is tailor the cupcake flavors and fillings to your guests' tastes and preferences. I find it impossible to say "no" to a cake filled with jam and cream!
When the cakes are cold, cut out a circle from the top by holding the knife and cutting at a 45 degree angle to a depth of about 2cm (1 inch). Place a small amount of filling in the cavity. Cut the circle in half and place the two "wings" on top of the filling. Dust with sifted icing sugar.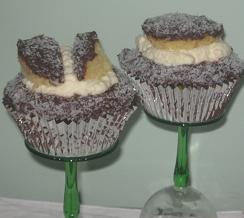 The varieties of cupcake butterfly cakes, also called fairy cupcakes, are endless.
Cream filling
Strawberry jam and cream, decorated with a small slice of strawberry between the "wings"
Lemon curd or lemon curd and cream
Chocolate hazelnut spread
Other butterfly cupcake ideas are to frost the tops of cupcakes with glace frosting and coat in coconut. Cut the tops and follow as per instructions above. The frosting can be chocolate or tinted pink or whichever color you prefer.
It is best to bake butterfly cup cakes in a moderate oven as this keeps them as flat-topped as possible
Home

›
Cupcake Recipes
› Butterfly Cupcakes