Home

›
Cupcake Recipes
› Banana Cupcakes
Banana Cupcakes
Whenever there are a couple of over-ripe bananas in my house I make Banana Cupcakes. Follow this banana cupcake recipe and you will be making perfect cupcakes every time.
I just can't bear to waste bananas. This cupcake recipe is fool-proof. I sometimes add 1/2 cup of chopped nuts (pecans or walnuts) to the mixture.
I love these cupcakes fresh from the oven or cooled and then topped with cream cheese frosting. The cupcakes stay very moist and this recipe can easily be made a day before you intend to eat them.
My daughter always hides a couple before I frost them and then pops them in the microwave the next morning and they are her breakfast treat. Sometimes she cuts them in half and butters the cupcakes. They remain so moist that I am forever telling her she doesn't need the butter.
| | | | |
| --- | --- | --- | --- |
| Prep Time | Cooking Time | Servings | Difficulty |
| 10 minutes | 20 minutes | 24 | Easy |
Ingredients: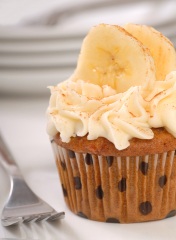 4oz (125g) softened butter
3/4 cup firmly packed brown sugar
2 eggs
1 1/2 cups self-raising flour
1/2 teaspoon bicarbonate of soda
1 teaspoon mixed spice
1 cup mashed over-ripe banana (2-3 bananas)
1/2 cup sour cream
1/4 cup milk
Preparation:
Preheat oven to 350F (180C).
Line cupcake pans with cupcake liners.
Beat butter and sugar in small bowl with electric mixer until light and fluffy.
Beat in eggs, one at a time.
Transfer mixture to a large bowl and stir in the sifted dry ingredients, banana, sour cream and milk, in two batches.
Spoon mixture into paper cases.
Home

›
Cupcake Recipes
› Banana Cupcakes