Home

›
Cupcake Recipes
› Brownie Cupcakes
Brownie Cupcakes
It seems that everyone loves cupcakes and everyone loves brownies so combine the two to make wonderful rich, moist Brownie Cupcakes.
Cupcakes are no longer just served as a treat at a child's birthday party. Everyone has realized that a cupcake is the perfect size to satisfy a sweet craving. It is an indulgence of the right proportions. It is big enough to satisfy the craving but, fortunately for us, it is not big enough to share.
Luckily for us chocolate lovers, brownies have been crossed with cupcakes to give us a satisfying, deep chocolate flavor and texture. Brownie cupcakes make a deliciously dense, moist cake.
To make this recipe even better, it comes together quickly in a single saucepan on the stove-top. This means it is quick to make just as quick to cleanup.
All the cupcakes need is a sprinkling of sifted confectioners sugar or a drizzle of chocolate glaze and they are ready to serve. If you wish to give it the full cupcake treatment, frost chocolate cupcakes with a more traditional buttercream frosting.
| | | | |
| --- | --- | --- | --- |
| Prep Time | Cooking Time | Servings | Difficulty |
| 15 minutes | 30 minutes | 12 | Easy |
Ingredients: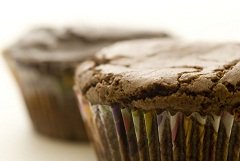 3 oz (85g) unsweetened chocolate
1/2 cup butter or margarine
1-1/2 cups sugar
3 eggs, beaten
1-1/2 teaspoons vanilla extract
1 cup all-purpose (plain) flour, sifted
1 cup chopped walnuts
Preparation:
Heat oven to 350F (180C).
Line cupcake trays with paper liners.
In large saucepan, over very low heat, combine chocolate and butter and heat until chocolate has just melted, stirring occasionally.
Remove from heat and stir in sugar, beating until well combined.
Blend in eggs and vanilla.
Fold in flour and walnuts.
Spoon mixture into cupcake trays.
Bake for 30 minutes.
Cool in trays for five minutes before turning onto a wire rack to cool completely.
Sprinkle with powdered sugar or frost if desired.
Home

›
Cupcake Recipes
› Brownie Cupcakes