Home

›
Cupcake Recipes
› Jello Cakes
Jello Cakes
Jello Cakes are a favorite with my family. I always use strawberry jelly crystals but you can use any flavor you like.
When made a day ahead the cream seems to moisten the cake mixture and they really melt in your mouth! I am sure that once you make these jelly cakes, you will be asked to make them again and again ... and again.
These cupcakes were always a favorite for birthday parties when I was growing up and then over the years I have made them for my children. My mom used to make them in gem irons but I make them in cupcake trays.
An elderly friend of mine makes her jello cakes with orange jello and I have also seen them made with green jello for St Patrick's Day. Regardless of which flavor jello you use, they will be a huge hit.
Ingredients: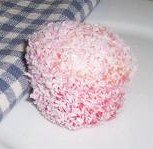 Vanilla cupcakes.
Jello crystals
Coconut
Preparation:
Dissolve 1 packet of jelly crystals in 1 cup boiling water and add 1 cup cold water. Refrigerate until partly set.
Beat 1/2 cup thickened cream with 1 tbsp icing (confectioners) sugar until soft peaks form.
When cupcakes are cold, cut in half horizontally and sandwich back together with cream.
Place a cupcake on a slotted spoon or egg slide, and spoon partly set jello over the cupcake.
Roll cupcakes carefully in coconut.
Refrigerate for about 30 minutes until set.
Home

›
Cupcake Recipes
› Jello Cakes