Home

›
Cupcake Recipes
› Martha Stewart Cupcakes
Martha Stewart Cupcakes
Everyone has heard of Martha Stewart Cupcakes and this recipe for One-Bowl Chocolate Cupcakes, is as the name suggests, super easy because they are made ...guess what ... in one bowl.
What I really like about these chocolate cupcakes is that all the ingredients are pantry staples. I have everything on hand all the time so I can make a batch of cupcakes whenever I want.
"You even have buttermilk always on hand??!!" No, I don't. I definitely cheat with the buttermilk and use a little under 3/4 cup of milk and add a tablespoon of vinegar. Let this sit for 5 minutes and you have a pretty good buttermilk imitation.
| | | | |
| --- | --- | --- | --- |
| Prep Time | Cooking Time | Servings | Difficulty |
| 15 minutes | 20 minutes | 18 | Easy |
Ingredients: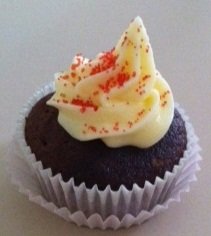 1 1/2 cups all-purpose (plain) flour
3/4 cup unsweetened cocoa powder
1 1/2 cups sugar
1 1/2 teaspoons baking soda
3/4 teaspoons baking powder
3/4 teaspoons salt
2 large eggs
3/4 cup buttermilk
3 tablespoons vegetable oil (you can substitute with apple sauce instead to cut some calories)
1 teaspoon vanilla extract
3/4 cup warm water
Preparation:
Preheat oven to 350F (175C).
Line cupcake trays with paper liners.
Put all the dry ingredients into a mixing bowl and combine.
Add the wet ingredients and mix until thoroughly combined.
Pour mixture into cupcake trays.
Bake for approximately 20 minutes or until a skewer inserted in the center of a chocolate cupcake comes out clean.
Let cool, then frost and decorate or dust with icing sugar.
Home

›
Cupcake Recipes
› Martha Stewart Cupcakes