Cupcake Birthday Cake
by Louise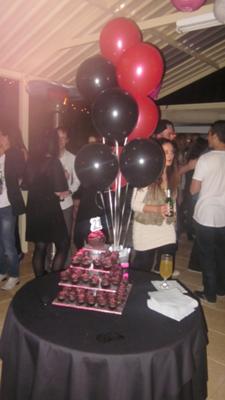 For my daughter's recent 21st birthday party, I made a cupcake birthday cake. It looked so good and was much, much cheaper than buying a large cake.


We had over 100 guests and I made about 150 cupcakes. They didn't all fit on the stand and I put the remainder on a tray and passed them around to the guests. All the food I served was in bite-sized portions so I made the mini cupcakes which were a perfect size.
I used your
chocolate obsession cupcake
recipe. I prepared the mixture a couple of days beforehand and on the morning of the party all I had to do was spoon the mixture into the cupcake trays and bake. Really easy and no mess on the party morning which was fantastic.

Hi Louise (love the name!!)

Thanks so much for emailing your photos and story about making a cupcake birthday cake.

People always think that making a large number of cupcakes is hard work and very fiddly. But if you are prepared, as you obviously were, it really doesn't take too long. I think that making a cake for 100 people and decorating it is much, much harder!!

As I keep telling people when you are making a large number of cupcakes it doesn't matter if each one does not look exactly the same as the one next to it. In comparison, one large cake needs to be frosted perfectly.

The chocolate obsession cupcake recipe is a real winner and I am so glad that they turned out well for you and your daughter.

Regards