Home

›
Cupcake Frosting Recipes
› Fondant
Fondant
Fondant is available to buy at supermarkets and specialty stores and is not very expensive.
If you've got time to make this, it's probably worth the extra effort, however, it's not vital. I quite often buy it and most people can't tell the difference - does that say more about me or my friends!!
Sugar paste, or ready roll icing, can be used to cover cakes and can also be used to shape cupcake decorations.
I think this is the ideal frosting to use for wedding and engagement cupcakes. It is great to work with and stunning results can be achieved with minimal effort.
I have listed this fondant icing recipe as difficult, however, it is probably only difficult the first time you make it. After that you know the consistency that you are looking for and subsequent attempts to make this cupcake frosting become much easier.
| | | | |
| --- | --- | --- | --- |
| Prep Time | Cooking Time | Servings | Difficulty |
| 20 minutes | N/A | N/A | Difficult |
Ingredients: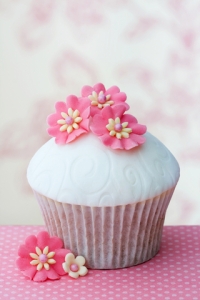 1 egg white
1fl oz (30ml/2 tbsp) liquid glucose
1lb 2oz (500g/4 1/4 cups) icing (confectioner's) sugar
Preparation:
Put egg white and liquid glucose in a bowl.
Sift the icing sugar into the bowl and mix together with a wooden spoon until the mixture binds together.
Form the paste into a ball with your fingers. If it is too soft and sticky, knead in extra icing sugar until is is firm but still pliable.
Knead the mixture on a work surface coated with icing sugar, until it is smooth and free from cracks.
If mixture is not to be used immediately, wrap tightly in cling film. If it dries out a few drops of boiling water can be kneaded into it, until it is once again soft and pliable.

Coloring can be kneaded in, one drop at a time, until the desired colour is obtained.
Home

›
Cupcake Frosting Recipes
› Fondant