Home

›
Baby Shower Cupcakes
› Flannel Cupcake
Flannel Cupcake
Flannel cupcakes, boxed together with home-made cupcakes make a beautiful gift for Mom and a newborn baby.
They are also a perfect gift for a baby shower.
These easy to follow instructions will show you how to make flannel cupcakes in seconds.
You need: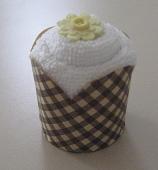 Flannel or toweling washcloth
Cupcake Liner
I prefer to fold the ends in towards the middle and then fold in half again (as shown in the pictures).
Roll up tightly from one end and place in cupcake liner.
If you are using silicon cupcake liners, which are not as high so do not hold the flannel as tightly, I would recommend placing a small elastic band around the cupcake to hold its shape.
The toweling cupcake, or washcloth cupcake, can be decorated with a round bath gel (to look like a cherry) or I often place a fabric flower or fruit ornament on top.
If your love of cupcakes has inspired you to make some crafty cupcake creations, I would love to hear from you.
Home

›
Baby Shower Cupcakes
› Flannel Cupcake