Anniversary Cakes & Cupcakes
Each and every wedding anniversary deserves to be celebrated in a special way. Instead of making the more traditional Anniversary Cakes, have some fun and serve Anniversary Cupcakes. Anniversary cupcakes are the modern day and easier alternative to cake.
Whenever we celebrate a memorable occasion with friends and family, it culminates with speeches and a cake. A cupcake anniversary cake is very easy to serve which makes it ideal for any party.
What type of celebration are you having for your wedding anniversary? If you are having a sit-down meal you will want your cupcakes to be the dessert in which case chocolate mud cupcakes would be perfect. Frost with chocolate ganache. They could also be served with a dollop of cream and strawberries, or any other fresh fruit. A berry coulis and cream turns a cupcake into a dessert.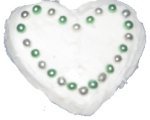 For an afternoon tea celebration any cupcake could be served. Do you want the cupakes arranged on a tiered cupcake stand, which will then become a gorgeous centerpiece on the afternoon tea table?
What color did the bridesmaids wear? Use those colors to decorate your cupcakes. The color could be incorporated into cupcake wrappers, frosting or edible sugar decorations.
Alternatively, match the cupcake liners and decorations to the year you are celebrating - silver for 25th, gold for 50th.
Heart-shaped cupcakes are no more difficult to make and they look fantastic. A simple row of colored cachous or dragees is all that is needed to finish the look. Or, place a sugar flower off-center, in the original bridesmaid color
For some great ideas look at my Wedding and Engagement pages. Any of these suggestions would be suitable for an engagement celebration.
I have just found a website - The Wedding Anniversary Site - which gives lots of useful information about celebrating your anniversary, finding the perfect gift and much more. If you are celebrating an anniversary or planning an anniversary party for your loved ones visit this website for great ideas.
Another gorgeous website is Unforgettable Anniversary Ideas. It is full of anniversary ideas you need to make every celebration truly unforgettable. From the 1st to the 50th, from the traditional to the unique, it's all here. Great tips and ideas on how you can celebrate your anniversary, plan a party or purchase a gift as well as romantic ideas, gift ideas, party ideas, poems and toasts.
<! -- aweber signup form --> <! -- end aweber signup form -->