Home

›
Cupcake Frosting Recipes
› Strawberry Frosting Recipe
Strawberry Frosting Recipe
This Strawberry Frosting Recipe brings a classic freshness to your cakes and desserts. It is versatile in every sense. Put a dollop of strawberry frosting on a pie, layer your cake with it or fill your sponge roll; it will never let you down.
The smooth creamy strawberry frosting tingle your senses while the adorable pink color is a visual treat. The fresh fruity flavor carries the essence of spring and hence gives a new dimension to the spring desserts. It tastes every bit like strawberry ice cream.
So you don't really need an excuse to whisk up this strawberry icing recipe It will surely satisfy your strawberry cravings and keep you lusting for more.
You can experiment withe the strawberry frosting recipe and throw in some cream cheese or vanilla extract and create a melange of flavors that will bring your close to paradise.

| | | | |
| --- | --- | --- | --- |
| Prep Time | Cooking Time | Servings | Difficulty |
| 5 minutes | N/A | 24 | Easy |
Ingredients: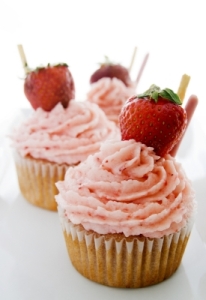 ½ cup whole fresh strawberries
½ cup unsalted butter
1 ¼ cup confectioners (icing) sugar
¼ tsp pure vanilla extract
Preparation:
Puree the strawberries in a food processor.
Beat butter in an electric mixture until it attains a fluffy texture.
Lower the speed and slowly add icing sugar while beating constantly until it is mixed well.
Pour in the strawberry puree and vanilla.
Blend it into an even mixture until it becomes dense and creamy.
Spread it over dessert and garnish with fresh, sliced or whole strawberries for added freshness.
Home

›
Cupcake Frosting Recipes
› Strawberry Frosting Recipe