Home

›
Cupcake Frosting Recipes
› Cooked Chocolate Icing
Cooked Chocolate Icing
The smooth layer of Cooked Chocolate Icing on a cake or cupcakes adds a touch of luxury to it. The gooey chocolate with a hint of sweetness leaves you licking the fingers.
The silky smoothness melts in your mouth and feel like being in cloud nine! It adds a glossy touch to your dessert and makes it look gorgeous.
When it comes to chocolate, it feels like you never had enough! So add lot and lots of chocolate for more richness.
Though cooked chocolate frosting resembles any other chocolate frosting in every aspect, it takes less than half their time to prepare. Whenever you are in a hurry, go for cooked chocolate frosting to adorn your cake.
However, one should keep in mind that the temperature of the cooked chocolate should never reach above 100 degree Celsius. So quench your temptation with rich creamy cooked chocolate frosting and savour the 'sinful' taste.
You can vary the consistency of brown sugar frosting to suit your dessert, by altering the ratio of the ingredients. Add more butter to your frosting make it creamier and go for a generous helping of icing sugar to make it extra sweet.
Go for a thicker consistency of brown sugar frosting to coat your cakes and make it thinner for brownies, breads and other desserts. Combine it with additional taste of vanilla, coconut or cream cheese and make your dessert into a supreme indulgence!

| | | | |
| --- | --- | --- | --- |
| Prep Time | Cooking Time | Servings | Difficulty |
| 5 minutes | N/A | 24 | Easy |
Ingredients: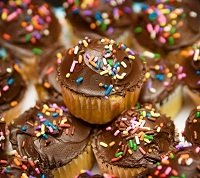 1 ¼ cup sugar
4 tbsp unsweetened cocoa powder
4 tbsp corn starch
1 ¼ cup boiling water
1 tbsp unsalted butter,softened
1 tsp vanilla
Preparation:
Blend sugar, cocoa powder and cornstarch together in a pan.
Pour in water and cook on high heat to attain a thick consistency.
Remove from heat and add the butter and vanilla while stirring continuously.
Allow to cool for around 10 minutes.
Home

›
Cupcake Frosting Recipes
› Cooked Chocolate Icing