Cupcakes in a Jar
Cupcakes in a Jar are a perfect gift. They are just as the name suggests - cupcakes served in jars, layered with you favorite frosting or topping.
They are easy to make and there are several advantages to serving cupcakes this way:


- They keep fresh longer. Half-eaten cupcakes stay moist as they are in sealed glass jars.

- You can eat a little every day without feeling guilty. You truly can have your cake and eat it too.

- You get lots more frosting with your cake. As the cupcakes and frosting are layered, every bite of cake comes with frosting - not just the top of the cupcake.

- No crumbs drop on you as you eat them.

- The candy or fruit surprise on top is a delight. You can also sprinkle candies throughout the frosting layers as well.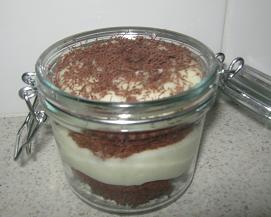 I recently ordered a tiramisu as a dessert at a restaurant and it came out served in a jar. Follow the recipe for Tiramisu Cupcakes and layer the cupcakes and cream cheese mixture in a jar. Attach a dainty teaspoon with some pretty ribbon and you have a gorgeous gift. This would be perfect as an end of year gift for a friend or favorite teacher.

Buy a few jars and follow any cupcake recipe and layer cupcakes with either buttercream frosting or cream and it is a no-mess dessert, suitable to take on a picnic.

Chocolate cupcakes layered with chocolate ganache is another great combination. Pop in the microwave for a few seconds for the cupcakes to warm through and the ganache to soften. It becomes an instant dessert.

Chocolate cupcakes layered with peanut butter and peanut butter buttercream will soon become another decadent favorite!
<! -- aweber signup form --> <! -- end aweber signup form -->