Lemon Filling
A lemon cake or cupakes layered with Lemon Filling and covered in lemon buttercream is a magnificent combination which always seems especially suitable at Easter.
Also called lemon curd or lemon butter, it goes really well with fresh berries. Try layering vanilla cupcakes or cakes with lemon butter and thinly sliced strawberries, raspberries or blueberries.
Lemon is also the perfect accompaniment to gingerbread. Make gingerbread cupcakes and fill with lemon butter and dust with confectioners sugar or frost with lemon buttercream.
Coconut and lemon are two more flavors that complement each other. Team lemon filling with coconut cupcakes and again frost with buttercream and top with shredded coconut.
The obvious use for this tangy filling is lemon meringue cupcakes.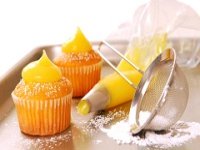 Ingredients:
grated rind and juice of 2 large lemons
3oz (90g) butter
1-1/4 cups granulated (castor) sugar
3 eggs, beaten
Method:
Place the rind and juice of the lemons, butter and sugar into a bowl suspended over a saucepan of simmering water.
Stir the mixture continuously while the butter melts.
Add the beaten eggs by straining them through a nylon sieve into butter mixture.
Cook, stirring continuously, over medium heat for 20-25 minutes or until the mixture is thick enough to coate the back of a wooden spoon.
Remove from the heat and leave to cool completely.
Refrigerate until set.
<! -- aweber signup form --> <! -- end aweber signup form -->