Marshmallow Whoopie Pie Filling
This Marshmallow Whoopie Pie Filling is light and fluffy. It is perfect for chocolate or red velvet whoopie pies but can also be teamed up with cupcakes.
This filling is suitable for cakes, cupcakes, and whoopie pies. These quantities make about 2-1/2 cups of filling which is enough to fill 12x3inch whoopie pies or 12-15 cupcakes.
The recipe uses one jar of marshmallow cream which is a sweet, spreadable marshmallow-like confection. A popular brand of marshmallow cream is Marshmallow Fluff which is sold in the United States, Canada and several European countries.
This marshmallow frosting will keep, in a sealed container, in the refrigerator for up to a week. If stored in the refrigerator, allow to get back to room temperature and beat lightly before using.



| Prep Time | Cooking Time | Servings | Difficulty |
| --- | --- | --- | --- |
| 10 minutes | N/A | N/A | Easy |
Ingredients: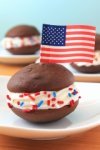 6 tablespoons butter, softened
1-1/2 cups confectioners (icing) sugar
1 x 7oz jar Marshmallow Cream
1 teaspoon vanilla extract
Method:
In the medium bowl of an electric mixer, beat butter until fluffy and lighter in color (approx 5 minutes).
Gradually add sifted confectioners sugar and beat well.
Add the jar of marshmallow cream and vanilla extract and beat until well combined.


Variations:
Colored:
add a drop of food coloring to frosting until you reach the desired color.
Flavors:
add a few drops of food coloring to achieve the flavor your desire.
<! -- aweber signup form --> <! -- end aweber signup form -->