How to Make Cupcakes
Follow these easy tips and techniques on How to Make Cupcakes that are perfect everytime.
Cupcakes are so quick and easy to make and are ideal for children to bake when first showing an interest in baking. They can be simple and the results can be enjoyed within a very short space of time.
I always think the best cupcakes for kids to make are those where all the ingredients are put in the bowl together. Whether they mix with an electric mixer or with a wooden spoon there is very little mess. I also love recipes that involve using a measuring cup because I think it is easier for children to get a cup of flour or sugar rather than measuring ingredients in grams or ounces.
My top tips on how to make cupcakes are: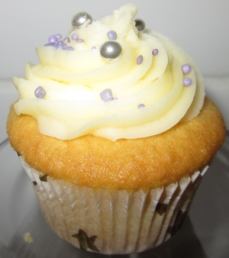 Read the recipe thoroughly before starting to cook so that you know what you will be doing and you also know that you have all the ingredients on hand.
Have ingredients at room temperature.
If using an electric mixer, start beating on a low speed until ingredients are combined and than gradually increase the speed.
When measuring liquids, always place the measuring cup or jug on a level surface so that you can easily read the correct measurement.
When measuring dry ingredients in a cup, use a knife to level out the ingredients.
Ingredients such as cake flour, baking soda, and cocoa powder should be sifted before adding them to the mixing bowl to stop you getting lumps in your cooked cupcakes.
If using an electric mixer, you must keep scraping down the sides of the bowl and the beaters to make sure that all the ingredients are mixed in enough.
When creaming the butter and sugar, make sure you beat until the mixture is light and fluffy. Don't cut corners and only beat for a few seconds and think that will be ok.
If you have to melt ingredients and wait for it to cool. Wait!! Don't add ingredients that are still hot as it can start cooking the other ingredients before they go in the oven.
If you are adding nuts,fruit or chocolate, these are to be added after all the other dry ingredients and liquids have been combined.
Prepare your pans (either by inserting cupcake papers or spraying with cooking oil, before you start mixing ingredients.
Turn the oven on before you start preparing the mixture so that it is ready when you are for the cupcakes to be cooked.
Spoon mixture evenly into cupcake trays.
Use a toothpick or wooden skewer to test the cake for doneness by placing the toothpick into the middle of the cake. If it comes out clean, the cake is done.
After taking them from the oven, leave cooked cupcakes in the tray for five minutes before turning onto a wire rack to cool completely.
<! -- aweber signup form --> <! -- end aweber signup form -->