Healthy Dog Treat - Carrot Pupcakes
A Healthy Dog Treat? Cupcakes for dogs??!!! Well, we eat carrot cupcakes so why not let Rover join in the fun and enjoy his own crunchy munchy carrot pupcakes?
This is a really easy recipe for healthy dog treats. They freeze well so it is worth making a batch and freezing them so that they can always be "on hand" as healthy dog treats.
Ingredients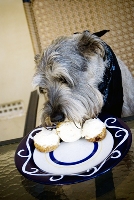 3 cups water
2 carrots, grated
1 egg
1/2 tspn vanilla
2 tblspns honey
2 ripe bananas, mashed
4 cups all-purpose (plain) flour
1 tspn baking powder
1 tspn nutmeg
1 tspn cinnamon
Method
Preheat oven to 350F (180C).
In a large mixing bowl, blend water, carrots, egg, vanilla and honey.
Add mashed bananas.
In a separate bowl, mix flour, baking powder, nutmeg and cinnamon.
Combine flour mixture with carrot mixture and mix thoroughly.
Spoon into cupcake tins, lined with cupcake papers.
Bake for about 30 minutes or until a toothpick inserted in the centre of a carrot pupcake come out clean.
Frost pupcakes, if desired.
Pupcake frosting
180g (6 oz) cream cheese
2 tblspns plain yogurt
2 tblspns honey
flour
Beat cream cheese, yogurt and honey until smooth.
Add enough flour to thicken until you reach a good spreading consistency.
Sprinkle with grated carrot, if desired.
<! -- aweber signup form --> <! -- end aweber signup form -->