Home

›
Whoopie Pie Recipes
› Chocolate Whoopie Pie Recipes
Chocolate Whoopie Pie Recipes
Of all the Whoopie Pie Recipes I have used, this recipe for chocolate whoopie pies is my favorite.
These whoopie pies are great for any occasion. My family loves them filled with peanut butter filling.
All that is then needed is a sprinkling of confectioners sugar and a hungry horde to finish them off!
Although they can keep for a couple of days, my whoopie pies never seem to last that long.
Another way to serve these chocolate whoopie pies is to fill them and place in the freezer. Hey presto!! The result is a frozen giant sandwich but it is a perfect size and great to serve as a dessert.
| | | | |
| --- | --- | --- | --- |
| Prep Time | Cooking Time | Servings | Difficulty |
| 10minutes | 12 minutes | 12 | Easy |
Ingredients: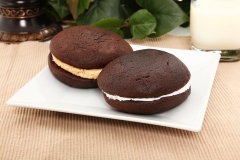 6oz (175g) all-purpose (plain) flour
1 1/2 tsp bicarbonate soda
1oz (40g) cocoa powder
6oz (170g) butter
5oz (150g) dark brown sugar
1 egg
1 tsp vanilla essence
5fl oz (150ml) milk
Preparation:
Preheat the oven to 350F (180C).
Line baking trays with baking paper or grease whoopie pie tins with butter.
Beat butter and sugar with electric mixer and beat until pale and fluffy.
Mix in the beaten egg and vanilla and fold in sifted flour, bicarbonate soda and cocoa. Add milk and stir until well combined.
Pipe onto baking trays or spoon into whoopie pie tins.
Bake for 12 minutes until firm to the touch.
When cold, sandwich together with frosting.
Home

›
Whoopie Pie Recipes
› Chocolate Whoopie Pie Recipes