Home

›
Cupcake Filling Recipes
› Chocolate Mousse Filling
Chocolate Mousse Filling

For a special treat serve chocolate cake or cupcakes with a light and fluffy Chocolate Mousse Filling. It is a wonderful combination that transforms your cakes from ordinary to extra extraordinary!
Like a chocolate filling this rich relation can also be served with chocolate cakes, banana cakes, vanilla cakes, red velvet cakes, hazelnut cakes,
This chocolate mousse doesn't have to be just used as a cupcake filling. I have made this for many years and every time I make it for a dessert somebody requests the recipe.
It is the only fool-proof chocolate mousse recipe that I have tried that doesn't involve separating the eggs. A girlfriend of mine was given it over twenty years ago from her relations in Switzerland. They probably use good Swiss chocolate but I find that even the store bought chocolate tastes great.
There is the option to add one tablespoon of grand marnier to the chocolate mousse, which I occasionally add. It really just depends on who will be eating my chocolate mousse filled cupcakes or desserts
Make and enjoy!
Ingredients: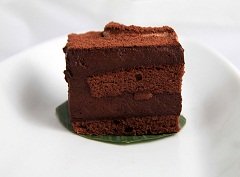 2 eggs
1 tbsp granulated (castor) sugar
6oz (180g) cooking chocolate
10fl oz (300ml) cream, whipped
1 tbsp grand marnier (optional)
Preparation:
Melt chocolate in the microwave or in a bowl suspended over a saucepan of boiling water.
Beat sugar and eggs with an electric mixer until pale and fluffy.
Mix in chocolate quickly and stir until well combined.
Gently fold in whipped cream and grand marnier (if using).
Home

›
Cupcake Filling Recipes
› Chocolate Mousse Filling