Home

›
Cupcake Filling Recipes
› Chocolate Filling
Chocolate Filling
Cupcakes suitable for Chocolate Filling is a never ending list. This recipe will show you how easy it is to turn cupcakes into creations with a simple chocolate filling.
This filling can be teamed up with chocolate cakes, banana cakes, vanilla cakes, red velvet cakes, hazelnut cakes, This cupcake filling is dark, rich and sensational as a filling for cupcakes and cakes. It is equally delicious poured over ice-cream.
This is another of those recipes handed down to me from my mom. I have absolutely no idea where it originally came from but it is fantastic. I let it cool and set and use it as a cupcake filling but it is so versatile and can be used in so many ways. Apart from it being so tasty and sinful, it is easy to make which is a huge plus.
Mom used to make this and serve it as a sauce which she would then pour over a plate of profiteroles filled with creme patissiere. As small children we used to love this sauce and we would be begging to lick the bowl.
This filling or sauce is so good that it really deserves to be made again... and again... and again. Which is why I now use it to fill cupcakes.
Make and enjoy!
Ingredients: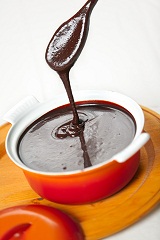 3/4 cup milk
4oz (125g) dark chocolate
1/4 cup sugar
pinch salt
2 tsp all-purpose (plain) flour
1oz (30g) butter
1/4 tsp vanilla
Preparation:
Heat milk and chocolate in bowl suspended over saucepan of boiling water.
When melted, beat until perfectly smooth.
Combine sugar, flour and salt and blend with a little cold milk.
Stir into chocolate mixture and cook for 5 minutes, stirring continuously, until thickened.
Add vanilla and butter and stir until combined.
Home

›
Cupcake Filling Recipes
› Chocolate Filling