Home

›
Cupcake Filling Recipes
› Creme Patissiere
Creme Patissiere
Creme Patissiere is a rich creamy custard that is perfect for just about any cake or cupcakes.
Also called pastry cream, this is a traditional French custard that is ideal for filling cupcakes or layering cakes. It is a also popular filling for choux pastry and as a bottom layer of a fruit flan.
When a friend gave me her recipe many years ago, she told me that it is best made the day before required to allow it to cool and thicken. I have always done this but I am sure it can be made and left for several hours and used later the same day.
The pastry cream will last in the fridge for 3-4 days. If it is thoroughly cooked in the refrigerator you will need to stir or whisk the custard before use.
If you don't have vanilla beans on hand, this can be made with vanilla extract. The flavors may not be quite as intense but it will still taste great and be a lot kinder to your wallet!
Ingredients: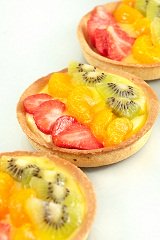 2 cups milk
1 vanilla bean
6 egg yolks
6oz (180g) granulated (castor) sugar
1-1/2oz (50g) cornflour
Preparation:
Place the milk and split vanilla bean in a heavy-bottomed saucepan, bring to a boil and simmer for about five minutes.
Beat the egg yolks, sugar and cornflour with an electric mixer until mixture has thickened.
Pour in milk and whisk until smooth.
Stir continuously over moderate heat until the mixture has come to the boil.
Remove vanilla bean. Vanilla bean can be washed and dried and kept for using again.
To prevent a skin from forming over the creme, press plastic film or clingwrap onto the pastry cream.
Home

›
Cupcake Filling Recipes
› Creme Patissiere