Home

›
Pupcake Recipes
› Pumpkin Pupcakes
Pumpkin Pupcakes
'Pumpkin Pupcakes' becomes a bit of a tongue-twister when you say it a few times.
These cupcakes for dogs are healthy dog treats which are packed with goodness as they contain pumpkin, rolled oats and raisins.
I have tried these dog treat recipes on my pet and also given them to friends' pets and they all seem to love them. I can't vouch for these.
Ingredients: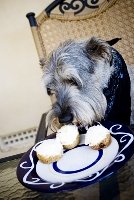 1 1/2 cups whole-wheat (wholemeal) flour
1 cup rolled oats
1/2 cup firmly packed dark brown sugar
2 tbsp milk powder
1 tbsp baking powder
1 1/2 tsp ground cinnamon
1/2 tsp salt
1 cup canned pumpkin puree
3/4 cup water

1/3 cup olive oil
1 egg
1/2 cup raisins (sweetened, dried cranberries)
Preparation:
Preheat oven to 400F (200C).
Combine flour, oats, sugar, milk powder, baking powder, cinnamon, baking soda and salt. Set aside 2 tbsp for topping.
Make a well in the center of the mixture and add the pumpkin, water, oil and egg. Stir to combine.
Spoon into cupcake tins, lined with cupcake papers.
Sprinkle the tops with reserved dry ingredients.
Bake for about 20 minutes or until a toothpick inserted in the center of a pumpkin pupcake come out clean.
Home

›
Pupcake Recipes
› Pumpkin Pupcakes