Home

›
Whoopie Pie Recipes
› Lemon Whoopie Pies
Lemon Whoopie Pies
Lemon Whoopie Pies can either be filled with lemon curd (lemon butter) or whipped cream for a light and tasty sweet sandwich.
Traditionally whoopie pies are made of chocolate and sandwiched together with a light, fluffy filling. But in this day and age no one seems to stick to much to tradition when it comes to food flavors. Hence we now have other fantastic whoopie pie flavors such as red velvet, pumpkin and, of course lemon.
This lemon whoopie pie recipe is easy to make and the filling can be anything you like. I have had them filled with cream cheese filling, lemon curd, whipped cream, or a mixture of cream and fresh berries. Strawberries and raspberries always seems to blend well with lemon so add some sliced fresh berries to the filling for a fruity flavor.

| | | | |
| --- | --- | --- | --- |
| Prep Time | Cooking Time | Servings | Difficulty |
| 10 minutes | 10 minutes | 12 | Easy |
Ingredients: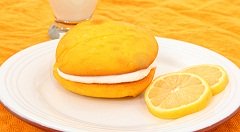 7-1/2oz (2255g) self-raising flour
2 eggs, lightly beaten
zest and juice of one lemon
5oz (150g) granulated (caster) sugar
5oz (150g) butter, softened
2fl oz (60ml) milk
Preparation:
Preheat the oven to 350F (180C).
Line baking trays with baking paper or grease whoopie pie tins with butter.
Beat butter and sugar with electric mixer and beat until pale and fluffy.
Mix in the beaten eggs, one at a time.
Fold in sifted flour and milk and stir until well combined. Add lemon zest and juice.
Pipe onto baking trays or spoon into whoopie pie tins.
Bake for 10-15 minutes until firm to the touch.
Cool on trays for a couple of minutes before turning onto a wire rack to cool.
When cold, sandwich together with filling.
Dust with sifted confectioners sugar.
Home

›
Whoopie Pie Recipes
› Lemon Whoopie Pies