Gluten-free Paleo Chocolate Chip Cupcakes
by Adina from All-About-Cupcakes.com
(Texas/United Arab Emirates)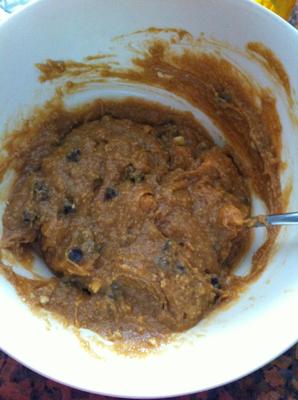 The batter
My daughter loves chocolate chip anything. Our family has been going gluten-free and she has really been wanting something with chocolate chips, so I adapted this recipe for gluten-free chocolate chip cupcakes


1 cup nut butter
1 cup almond meal/almond flour
3 eggs, whisked
1/2 cup honey
1/2 tsp vanilla
1/3 cup coconut oil, or grass fed butter, melted
1/2 cup dark chocolate chips
1/2 teaspoon baking soda
1/4 teaspoon salt
Add all of ingredients together and mix well until smooth.
Fill halfway and cook in preheated oven at 350 for about 20 minutes.
Once a knife or toothpick comes out clean, you will know they are ready.
These make a lightly-sweetened, fluffy, filling breakfast or dessert. It's hard to figure out if they're cupcakes or muffins.
You be the judge!