Home

›
Cupcake Filling Recipes
› Caramel Filling
Caramel Filling
Caramel Filling teams perfectly with chocolate cupcakes and walnuts. Top with a chocolate buttercream frosting or chocolate ganache for an amazing cupcake or cake.
Caramel, or butterscotch filling, has so much flavor that it really explodes when you bit into your cupcakes. If the cupcakes are filled whilst still warm they are a perfect dessert. All they need is a dollop of cream or ice-cream and a sprinkling of walnuts, pecans or fresh berries for a dessert your guests will rave about.
This filling is suitable for cakes and cupcakes, and can also be mixed with cake crumbs to make cake pops.
Ingredients: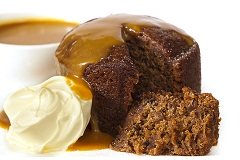 6oz (180g) butter
1/2 teaspoon salt
1-1/2 cups packed dark brown sugar
1/2 cup milk
1 teaspoon vanilla extract
Preparation:
Melt the butter in a heavy-bottomed saucepan over medium heat.
Stir in the salt and brown sugar and heat the mixture until boiling, stirring constantly.
Cook over low heat until the sugar is totally dissolved.
Stir in the milk and return to the boil, stirring constantly.
Remove the pan from the heat and stir in vanilla.
Cool to lukewarm, stirring occasionally.
Home

›
Cupcake Filling Recipes
› Caramel Filling