Home

›
Pupcake Recipes
› Apple Pupcakes
Apple Pupcakes
Apple Cupcakes are fantastic, moist cupcakes made especially for dogs.
Follow this recipe for apple pupcakes and you will be giving your pet healthy dog treats. Everyone likes to think they are taking good care of their pets and these dog treats will let your pet join in the fun and celebrations when he gets his own cupcake. Like all pet treats, they are just that - a treat - and not to replace a balanced diet.
Ingredients: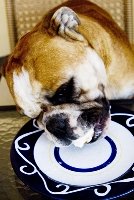 1 large apple
1 1/2 cups flour
1/4 cup oatmeal
2 tsp baking powder
1/2 tsp baking soda
1/2 cup plain yogurt
1/2 cup water
1/4 cup vegetable oil
2 tbsp honey
2 eggs
1 cup grated cheddar cheese
Preparation:
Preheat oven to 200C (400F).
Core, slice and finely chop or grate the apple.
Mix together flour, oatmeal, baking powder and baking soda.
In a separate bowl, blend together the yogurt, water, oil, honey and eggs and stir in the apple and cheese.
Add wet mix to the dry ingredients.
Bake for about 20 minutes or until a toothpick inserted in the centre come out clean.
Pupcake frosting
180g (6 oz) cream cheese
2 tbsp plain yogurt
2 tbsp honey
flour
Preparation
Beat cream cheese, yogurt and honey until smooth.
Add enough flour to thicken until you reach a good spreading consistency.
Store cupcakes in the refrigerator.
Home

›
Pupcake Recipes
› Apple Pupcakes