Welcome to Cupcake Corner, our all-about-cupcakes.com newsletter which aims to answer your everyday cupcake baking questions.
Each edition of Cupcake Corner is created as result of the questions you send me. Do you have a question, comment, or something else you'd like to share with our growing community of Cupcake fans? I would love to hear from you.
As always, thank you for joining me and for your support of all-about-cupcakes.com.
Kindest regards
Louise
___________________________________
The most visited pages at all-about-cupcakes.com are the pages dedicated to cupcake frosting and frosting recipes. So I have decided that this edition will focus on frosting.
One of the best parts about decorating cupcakes is that it's all about creativity, not following rules! I love to make cupcakes for my family, but get tired of doing the same thing every time, so I try to find recipes for frosting that are both easy and fabulous.
Probably one of my favorite sights is a big plate of cupcakes with vanilla glace frosting and a cherry on top. Sometimes, I like to add a little pink food color to the frosting for a different look- especially for girls parties, baby showers, and Valentines day!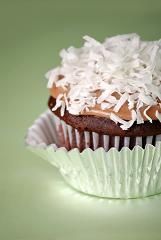 Another favorite among my family is simple piped frosting on a cupcake with a little bit of coconut, shredded chocolate, or candy confetti. It looks almost as great as it tastes! Butterfly cakes are a beautiful and tempting treat, filled with jam, lemon curd, or cream in the center and dusted with icing sugar, it's an irresistible snack.

Sometimes, creativity finds you. I wanted to make some cupcakes for a lunch I was attending, but when it came time to make the icing, I found that I was all out of confectioners sugar. Running late already, I had no time to run to the grocery store, so I found a jar of chocolate hazelnut spread and decided to use that as frosting. It was a little hard to spread, so I boiled a cup of water, then dipped my spatula in it to make it easier to spread. At lunch, the cupcakes tasted so good that I was asked for the recipe several times.
For cupcakes with that truly gourmet look, fondant is a great way to dress up your cupcakes. Simply slice the top of the cupcake so you have a nice flat surface, then pick two colors for your fondant. Work a few drops of color into the fondant (use just a little for a beautiful pastel shade, or more for a vibrant tone). After the color has been kneaded into the fondant, roll the fondant out thinly, and use a round cutter that is big enough to cover your cupcake.
Fondant makes it easy to be creative- try cutting out a design in a different color, or adding dots, lines, or flower centers using fondant or butter cream.
Frosting for cupcakes comes in a variety of types, and in many flavors to compliment any type of cake. Depending on the occasion you are planning, you can use different recipes to achieve a different look for your cupcakes.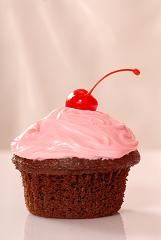 Here are a few different cupcake frosting ideas for you to try:

Buttercream frosting is a very tasty buttery frosting. It is great for piped designs because it holds its shape well, and can be colored to match any décor.

Fluffy frosting is made using egg whites, and should be eaten the same day it is made. It has a soft, marshmallow like consistency that makes it delicious on heavier cakes.

Glace frosting is one of my favorites because it is quick and easy to make. Simply beat butter, sugar, and milk (or water) in a small bowl, and you have frosting that is ready to use in just a few seconds.


Fondant is perfect for more formal cupcakes. You can make it yourself, or you can purchase it ready made. It can be tinted to match your theme, and holds its shape very well. Fondant is perfect for a fruit cake, and can be made into a variety of shapes using cutters. Fondant can also be topped with piped designs or flowers made from buttercream or royal icing.

Chocolate ganache is an alternative to traditional frostings. It is easy to make, but has a rich, smooth texture that will be sure to make any cupcake into a gourmet treat.

Cream cheese frosting can be used with almost any cake recipe. Vary the amounts of butter and cream cheese used to change the flavour of the cupcake. Cream cheese frosting is especially delicious on spice cake recipes.

Royal icing is made from an egg-white base that becomes hard after it stands. It is often used to make flowers and other designs that are then placed onto cupcakes, cakes, or cookies. It also works well alone on firmer sweets like cookies.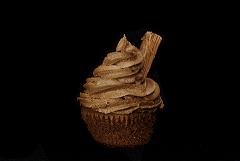 No matter which frosting recipe you use, you can make any cupcake even better by finding flavourful ways to mix frostings and cakes. For example, chocolate ganache on a chocolate cupcake is delicious, but chocolate ganache on a strawberry cake is unexpected and decadent. Experiment with frostings to find the ones you like best- and don't worry, your family won't complain about trying out your creations!



___________________________________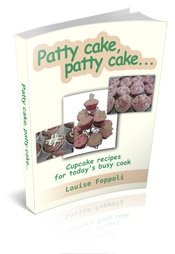 In case you missed my last email (or haven't yet had the chance to act), I just wanted to let you know that Patty cake, patty cake... is now available!

As a much-valued Cupcake Corner subscriber you were able to enjoy a great introductory price of just $14.95 ... 30% less than a normal web visitor would pay!

For just $14.95 you'll be able to grab this 120-page 'easy-print' e-book packed full of over 100 clearly explained cupcake recipes and frosting ideas (some of which are not even on the site).

How do you buy it? Just click here to be taken to the full buying and downloading instructions.

Or, click below to buy and start baking immediately ...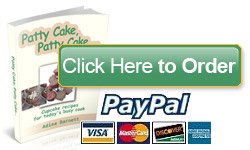 "Patty cake, patty cake..." is packed full of easy recipes for today's busy cook.
Feel like baking?
"Patty cake, patty cake..." is a great place to start.
___________________________________
That wraps it up for this edition of Cupcake Corner.
To contact me with questions, comments or suggestions, please fill out the form on my Contact page.
Happy baking, making and decorating!