Welcome to Cupcake Corner, our all-about-cupcakes.com newsletter which aims to answer your everyday cupcake baking questions.
Each edition of Cupcake Corner is created as result of the questions you send me. Do you have a question, comment, or something else you'd like to share with our growing community of Cupcake fans? I would love to hear from you.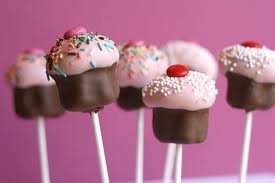 As a result of questions asked by readers, this edition of Cupcake Corner will be highlighting gorgeous cake balls. They have been around for a few years and they just seem to be getting more and more popular.
As always, thank you for joining me and for your support of all-about-cupcakes.com.
As a special thank you for subscribing to Cupcake Corner I am giving away a free ebook of my 15 favorite chocolate cupcake recipes. You just need to click the download link to get your free copy.
Kindest regards
Louise
___________________________________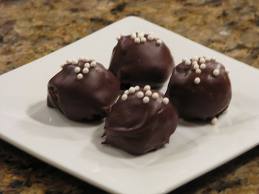 I know they probably don't belong in a newsletter or website about cupcakes, but they are so cute I just couldn't resist. They are bite-sized and if I stick to using cupcake crumbs they easily become a first-cousin of the well-loved cupcake!
Whether you call them cake balls, cake truffles or cake pops, they are basically the same thing - cute little balls of cake dipped in candy. They are usually made by crumbling cake and combining with frosting or ganache which enables the little cake to hold its shape prior to being coated in chocolate.
These gorgeous little mouthfuls of heaven can then be easily served and eaten without a crumb being dropped ... or wasted! They are the perfect finger-food dessert.
Cake pops are super-sweet and super-moist and last for several days.
The frosting and candy coating prevent the little truffles from drying out which makes them the ideal sweet treat which can be made well ahead of schedule. Planning a bite-sized party dessert has never been easier.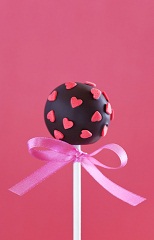 If you are planning a party for children follow the steps for making cake pops but make a cake on a stick instead. These can then be wrapped individually and given as a party favor to your young guests.
They are so easy to make and they look really impressive. Simply bake your favorite cupcake as you always have - feel free to experiment with flavors, fillings, and frostings, or just make a simple cake from a pre-made mix. Then, crumble your cake and combine with with frosting or ganache.
Let the mixture sit in the fridge till it sets and then roll into small balls. These balls are then dipped into melted chocolate and once again put in the refrigerator to set.
Cake balls can be individually wrapped or placed in decorative wrappers or liners. They then become a great wedding or party favor.
An even easier way to make cake balls is to use an electric cake pop maker. The Babycakes CP-12 Cake Pop Maker, Purple, 12 Cake Pops
makes perfectly round little cake balls so you don't have to crumble your cake and mix with frosting and shape into balls. All you have to do is bake the cake balls and coat in candy. How easy is that!!
If you are interested in making cake balls and want some more inspiration there are two fantastic books available that are sure to motivate you. The books are Cake Pops by Angie Dudley and Cake Balls by J Brentzel.
These little treats will be perfect for Easter and both books will give you fantastic ideas about combining cake and frosting flavors as well as decorating tips and techniques.
___________________________________
Since the last edition of Cupcake Corner I have received so many recipes for both cupcakes and frostings. Below are a selection of cupcake recipes.
Lucy from Sydney, New South Wales sent in a recipe for buttermilk cupcakes;
Jennifer from Melbourne, Australia shared her recipe for coconut cupcakes. I tried this recipe the day I received it and they taste great;
Shelby from UAE submitted her lemon cupcake recipe;
Peta from Budapest sent in a gluten-free carrot cake recipe; and
Alison from Ontario shared her chocolate cake recipe.
I also received the following frosting recipes:
royal icing from Myra;
caramel frosting from Jackie;
chocolate frosting from Marci; and
dairy free frosting from Beverley.
Thanks so much for your contributions. .
___________________________________
I have received many questions about how to go about starting a cupcake business so I have just released an ebook How to Start your own Cupcake Decorating Business which helps you from the beginning stages of thinking about starting your own business through to checklists for completing orders on time.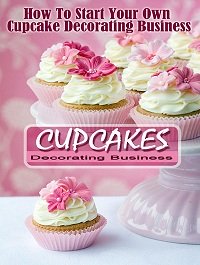 This book will show you that you don't need to be a professional chef to run a successful cupcake baking and decorating business.

Feel like earning some extra cash? How to Start your own Cupcake Decorating Business is the perfect place to start.

___________________________________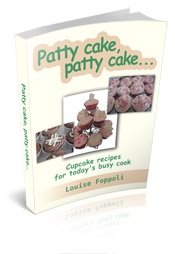 I just wanted to remind you know that my cupcake book, Patty cake, patty cake... is now available!

As a much-valued Cupcake Corner subscriber you are able to enjoy a great introductory price of just $9.95 ... 30% less than a normal web visitor would pay!

For just $9.95 you'll be able to grab this 120-page 'easy-print' e-book packed full of over 100 clearly explained cupcake recipes and frosting ideas (some of which are not even on the site).

How do you buy it? Just click here "Patty cake, patty cake..." is packed full of easy recipes for today's busy cook.

Feel like baking?

"Patty cake, patty cake..." is a great place to start.

___________________________________

That wraps it up for this edition of Cupcake Corner.

To contact me with questions, comments or suggestions, please fill out the form on my Contact page.

Lots of readers have recently emailed me with details of their favorite cupcake bakeries. This ever-growing list can be viewed here. If you would like to submit your favorite cupcake bakery I would love to hear from you.

Until the next edition ... Happy baking, making and decorating!