A very special hello and a big thank you to everyone that has subscribed to my newsletter. I hope you enjoyed the holiday season. Best wishes for a wonderful 2010.

This month's edition concentrates on the most popular page on my website All-About-Cupcakes. Yes … we are talking about BABY SHOWERS. Don't click away if you are not currently planning a baby shower as I will also be giving tips and ideas for other occasions.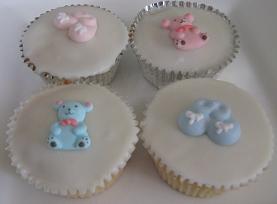 I always think the most important thing with baby shower cupcakes is that they are small, delicate and softly colored. I love decorating a plate of pale pink or pale blue cupcakes (if the sex is known) or a combination of soft pastel colors if mom is still waiting to find out!

People think making and decorating baby shower cupcakes is very difficult and time-consuming … but it isn't! There are so many edible cute sugar toppings available and at very reasonable prices that it really takes the hard work out of frosting. Frost with a buttercream frosting and top with an edible cupcake topper for a perfect cupcake.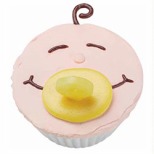 Make flesh-colored frosting and use a fine-tipped cake gel to paint different faces on each cupcake. You can use either a real or edible pacifier and place in the mouth area.

Or you can use cake gel to write small messages such as "It's a boy", "It's a girl", "Congratulations". Frost the cupcakes in white and use a colored cake gel or have pastel frosting and use another color for the writing. If the baby's sex and name is known – write "Welcome (name)" on a cupcake frosted in either pink or blue.
If you are still a bit unsure about making baby shower cupcakes, buy a cupcake kit from The Party Works. This website is full of cupcake decorating ideas and supplies. Click here to check out the wonderful edible decorations.


If you hate decorating cupcakes, the easy solution is to wrap each cupcake in a fabric cupcake cosy and tie in place with ribbon or pin with a diaper pin. My cupcake cosies can be made from any lightweight fabric and look gorgeous.

All these cupcakes would make a great centrepiece at a baby shower. Either buy or hire a tiered cupcake stand. They are readily available in all sizes. You can even buy disposable cardboard stands that you assemble yourself.

Cupcakes also make a beautiful gift to take to a new mother in hospital. An ideal gift, which will continue with your theme is flannel or sock cupcakes, however, you can roll up any article of clothing, tie it with a bow and it will look like a cupcake.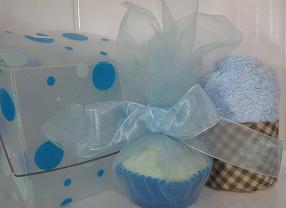 Click here to follow easy instructions to make these memorable gifts. They look very special when boxed with a couple of home-made cupcakes that mom can enjoy. What could be better than a present for the baby and something for Mom to enjoy as well?

I hope I have given you a little inspiration to make baby shower cupcakes. I would love to get stories and photos of your baby shower cupcakes

All-About-Cupcakes

I am currently updating my website. Please bear with me as I make a few cosmetic changes and add more pages. I hope you like the new color scheme!!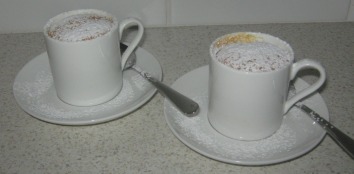 I would like to thank Elizabeth, Susan, Julie, Maria and Angela for sending in their favourite cupcake recipes. I love receiving your recipes and sharing them with my readers. Your recipes for plum and hazelnut cupcakes, apple and coconut cupcakes, lemon semolina cupcakes and the gluten-free lemon and passionfruit cupcakes all sound fantastic and I will be trying them very soon. I actually tried Elizabeth's warm strawberry cupcakes, baked in a teacup, this afternoon and served them for afternoon tea. They were a huge hit with my son's friends and so easy to make.

I have really loved building my website and I have so much more to add. I would love you to join the fun with me and add your own content. In other words, you can not only read the recipes, tips and reviews on the site, but you can get involved - sharing your foodie knowledge with the rest of us - just like Elizabeth, Susan, Julie, Maria and Angela!

This means...

If you have a cupcake recipe to share, or you want to comment on other readers' favorites, you can - quickly and easily. We also love to see photos of your cupcake creations or you can share a story that goes with your cupcake designs.

I hope you get some inspiration from this edition of Cupcake Corner. I would love to hear from you as to what you would like included in future editions.

Until then happy baking, making and decorating.