Welcome to Cupcake Corner, our all-about-cupcakes.com newsletter which aims to answer your everyday cupcake baking questions.
Each edition of Cupcake Corner is created as result of the questions you send me. Do you have a question, comment, or something else you'd like to share with our growing community of Cupcake fans? I would love to hear from you.
As always, thank you for joining me and for your support of all-about-cupcakes.com.
I am currently updating my website so please stop by and check out the new look. I would love to get your feedback.
Kindest regards
Louise
___________________________________
I have been asked quite often about my best cupcake recipe so I thought I would share my ideas in this issue of Cupcake Corner.
It just happens that I have two best cupcake recipes and they also both fit into the category of also being an easy cupcake recipe. A double bonus!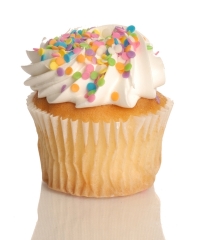 The two recipes that I make most often for my family and friends are a vanilla cupcake recipe and one for chocolate cupcakes.
This vanilla cupcake recipe came out of a magazine many years ago. It is now a scrunched up, tatty piece of paper and I have no idea where it originally came from. What I do know is that these vanilla cupcakes are easy and delicious.
I call these my best ever vanilla cupcakes. They are quick to make and perfect for the kids when learning to cook.
Unlike most vanilla cupcake recipes, it can be made the day before needed as it remains really fresh and moist.
Vanilla Cupcake Recipe
| Prep Time | Cooking Time | Servings | Difficulty |
| --- | --- | --- | --- |
| 5 minutes | 15 minutes | 24 | Easy |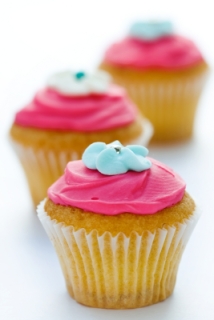 Ingredients
2 eggs
7 fl oz (200 ml) thickened cream
1 tspn vanilla essence
¾ cup castor sugar
1 cup self-raising flour, sifted
Method Preheat oven to 350F (180C).
Place cupcake liners in cupcake tray.
Crack eggs into a 8 fl oz (250 ml) measuring cup and then fill the cup to the top with thickened cream.
Pour into a mixing bowl and beat with an electric mixer for one minute.
Add the vanilla essence and sugar, beating for three minutes.
Fold in the self-raising flour and stir until blended.
Spoon mixture into cupcake trays.
Bake for 15-20 minutes or until golden.
Stand in trays for 5 minutes before turning onto a wire rack to cool.
Told you they were easy!!
___________________________________
My favorite chocolate cupcake recipe is actually a vegan recipe as it doesn't contain any animal products. These are the chocolate cupcakes that I make all the time even though none of my friends or family are vegans.
This recipe is so easy to make and the great thing is that the mixture can keep in the fridge for up to two weeks. I also find that once made the cupcakes are perfect for several days as they keep very moist and fresh. This one is a real winner!
Chocolate Cupcake Recipe
| Prep Time | Cooking Time | Servings | Difficulty |
| --- | --- | --- | --- |
| 10 minutes plus refrigeration | 15 minutes | 24 | Easy |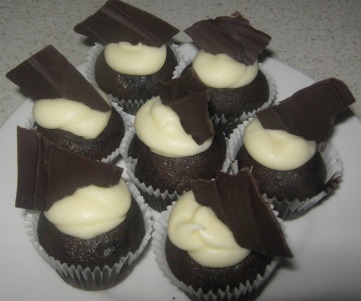 Ingredients
10fl oz (300ml) water
5fl oz (150ml) vegetable oil
2 tspn vanilla flavor
½ tblspn (10ml) white vinegar
8oz (250g) caster sugar
8oz (250g) plain flour
1 tspn bicarb soda
2oz (60g) cocoa powder
Method Preheat oven to 325F (160C).

Mix together the water, oil, vanilla and caster sugar until combined and sugar has dissolved.

Sift the dry ingredients together and add to wet ingredients.

Mix until combined and store in refrigerator overnight.

Place cupcake liners in tray.

Pipe or spoon mixture into cupcake liners.

Bake for approx 15-17 minutes.

___________________________________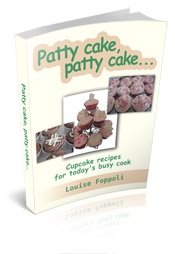 In case you missed my last email (or haven't yet had the chance to act), I just wanted to let you know that Patty cake, patty cake... is now available!
As a much-valued Cupcake Corner subscriber you were able to enjoy a great introductory price of just $14.95 ... 30% less than a normal web visitor would pay!
For just $14.95 you'll be able to grab this 120-page 'easy-print' e-book packed full of over 100 clearly explained cupcake recipes and frosting ideas (some of which are not even on the site).
How do you buy it? Just click here "Patty cake, patty cake..." is packed full of easy recipes for today's busy cook.
Feel like baking?
"Patty cake, patty cake..." is a great place to start.
___________________________________
That wraps it up for this edition of Cupcake Corner.
To contact me with questions, comments or suggestions, please fill out the form on my Contact page.
Lots of readers have recently emailed me with details of their favorite cupcake bakeries. This ever-growing list can be viewed here. If you would like to submit your favorite cupcake bakery I would love to hear from you.
I am often asked about the location of cupcake bakeries so I am planning on setting up a directory to list these bakeries. I will give you more details in the next edition of Cupcake Corner.
Until then ... Happy baking, making and decorating!