A very special hello and a big thank you to everyone who has subscribed to my newsletter through my website All-About-Cupcakes. Every month I am seeing huge increases in traffic so thank you to all of you that have visited and been inspired by my site. I would love you to send in recipes or photos (or both) so that we can all share in your successes.
I know I have been very tardy in sending out this edition of Cupcake Corner but I have been busy concentrating on finalising my eBook Patty cake, patty cake.... It is a "batch" of over 100 cupcake recipes and frosting ideas. Several recipes are from my website, plus I have included many, not yet published.
Lots of readers have submitted recipes and I have included as many as these as possible. Thank you very much to everyone who has contributed. I have been busy making all your recipes and my family love you!!! My friends and neighbours also love taste-testing for me. They are now popping in just to see what I have been baking.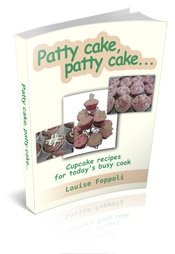 Patty cake, patty cake ...should be ready to go on sale shortly. I will let you know as soon as it is available.

One recipe I tried the other day was sent in from Becky Wunder. Becky's recipe is for chocolate cupcakes with cream cheese frosting. The frosting is a mixture of cream cheese, egg and sugar and it is spooned on top of the cupcake mixture and baked. It tastes like cheesecake. It is fantastic. Becky has a blog Wunderful Kitchen which is full of exciting recipes, podcasts, food trivia, and beauty tips. Thanks Becky.

Over the last few years I have found, or been given, recipes that have been labelled "best ever", "easiest", "tastiest" etc. The other day I came across another best ever cupcake recipe and, once again, I just had to try it.

This vanilla cupcake recipe was a huge success. I even hid a couple of cupcakes so that I could check them two days later to see if they remained fresh. And they were!!! This vanilla cupcake recipe will now become my favorite and easiest recipe.

Best Ever Cupcakes:
2 eggs
Thickened cream
1 teaspoon vanilla essence
3/4 cup caster sugar
1 cup self-raising flour, sifted


Preheat oven to 350F (180C)

Crack eggs into a 250ml measuring cup and then fill the cup to the top with thickened cream. Pour into a mixing bowl and beat with an electric mixer for one minute. Add vanilla essence and sugar and beat for 3 minutes. Fold in self-raising flour until blended.

Bake for 15-20 minutes or until golden.

Told you it was easy!!

I have really loved building my website and I have so much more to add. I would love you to join the fun with me and add your own content. In other words, you can not only read the recipes, tips and reviews on the site, but you can get involved - sharing your foodie knowledge with the rest of us!

This means...

If you have a cupcake recipe to share, or you want to comment on other readers' favorites, you can - quickly and easily. We also love to see photos of your cupcake creations or you can share a story that goes with your cupcake designs.

I hope you get some inspiration from this edition of Cupcake Corner. I would love to hear from you as to what you would like included in future editions.

Until then happy baking, making and decorating.